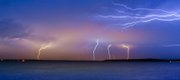 In the eye of the storm: The mystery, mayhem and majesty of Kansas weather. Learn about the power of severe weather, how to stay safe when a storm strikes, and how people affected by past storms have managed the rebuilding and aftermath of tornadoes striking home.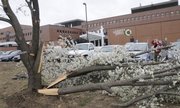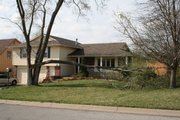 Send us your weather photos
Have a good photo of what the wind's done today? E-mail it to editor@ljworld.com or Twitpic it to @LJWorld.
Douglas County Emergency Management officials said Monday afternoon that construction at Hobbs Park has a storm warning siren at 11th and Delaware out of service, so they are advising residents in the area to have an alternate method of receiving a tornado warning.
The National Weather Service indicates the potential exists for the development of severe weather in Douglas County and surrounding area this afternoon and this evening.
"This is the time for residents to make arrangements to obtain information on developing weather," said Bob Newton, public information officer for Douglas County Emergency Management.
NOAA all-hazard radios, which receive transmissions from the National Weather Service, as well as 6News and LJWorld.com, are methods of keeping abreast of local weather, Newton said.
The wind has already caused some problems. There were 971 Westar customers without power in Douglas County late this afternoon.
"The storms are starting to pop off to our west, and a little extra sunshine is increasing our instability, so as we see storms firing, they'll be stronger," 6News Chief Meteorologist Matt Elwell said. Elwell said that while there is a risk of tornadoes in Lawrence, he thought the primary threat would be from large hail and high, damaging winds.
Kansas University has a severe weather plan, but leaders hope they don't have to use it during Monday night's women's basketball game at Allen Fieldhouse.
Kansas Athletics Inc. leaders say they are keeping a constant eye on the weather and talking with weather service officials.
"We have to work constantly in making determinations in terms of the safety of continuing with the event or just not just continuing," said Jim Marchiony, a KU associate athletics director.
If there is a tornado warning, the fieldhouse's public address announcer will notify fans they need to leave the bleachers and enter one of two hallways that do not have windows on the ground floor, Marchiony said.
The teams also will leave the court to enter their locker rooms, which do not have windows, he said.
"The communication is the key area," Marchiony said.
Tipoff for the WNIT game versus Creighton is scheduled for 7 p.m.
Copyright 2018 The Lawrence Journal-World. All rights reserved. This material may not be published, broadcast, rewritten or redistributed. We strive to uphold our values for every story published.