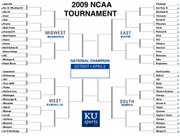 Get yer bracket on! Browse all brackets, check out out KUsports.com staff brackets, and check to see how your bracket's holding up after each match up is complete.
Photo Gallery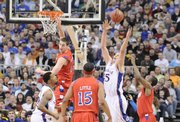 KU vs. Dayton
Audio Clips
2009 KU-UD
Minneapolis — One of Dayton's greatest strengths this season had been attacking the basket.
It didn't work Sunday against Kansas University and center Cole Aldrich.
"You get past the first guy and you look up and there is a mountain in the middle of the lane," Dayton forward Charles Little said after his team's 60-43 loss.
Aldrich recorded 10 blocks against the Flyers, which tied for the second-most in NCAA Tournament history.
UD's Chris Wright, who scored a career-high 27 points Friday against West Virginia, had just 10 points Sunday on 4-for-16 shooting.
"That was the first time in one game I got my shot blocked or altered that many times. So it's hard to compare Cole to anybody," Wright said. "He is a unique player where he can just stand there and block shots without jumping off the ground. And he did a good job of getting his hand on almost every shot we took in the lane."
Dayton coach Brian Gregory left impressed as well.
"The thing that he does and no one mentioned that I think he does better than anybody I've seen in recent years is be able to alter the shot and then still get the rebound," Gregory said. "Because he's not the most agile guy, but he has great hands. So a lot of times guys — like we have guys that can block some shots — but then they're never around to rebound on the back side. And he does that."
Dayton made just 16 of 72 field goals (22.2 percent). Its previous worst effort this season was a 27.8-percent shooting performance against Auburn.
Gregory said KU scouted his team well.
"Give Kansas credit because a lot of times a team of that caliber will play us and just say, 'We're better than them,'" Gregory said. "And you know what? A lot of teams have found out that they're not when they just say, 'We will pressure you. We will do all this stuff. We're not going to have a specific game plan.'
"Give (Kansas coach) Bill (Self) credit because it's the first team that had a specific game plan in terms of different ways to guard us. And we had to make some shots in order to get through that game plan, and we just didn't make enough shots to do it."
The Flyers' 43 points also was a season-worst.
They made just one of their first 14 field goals in the first half, then drained only two of their first 18 shot attempts in the second half.
"As I said, we are not pretty. There's no question at times, we're downright brutal offensively," Gregory said. "But the fight in our guys showed."
Little, who had 18 points against West Virginia, contributed just six points on 2-for-10 shooting against KU.
The senior was pulled aside by Aldrich after the game, with the KU center offering sympathies that his career was over before telling him that he should continue attacking the lane.
It might be a tough piece of advice for Little to follow after Sunday's experience against Aldrich.
"He was just down there, and he's big," Little said. "So it is hard to get a shot over him. When I did, it wasn't a good shot. And he altered a whole bunch. He's a great player, and he played his game."
Copyright 2018 The Lawrence Journal-World. All rights reserved. This material may not be published, broadcast, rewritten or redistributed. We strive to uphold our values for every story published.