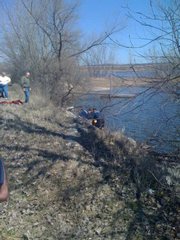 Water rescue crews responded Thursday afternoon to a private lake in North Lawrence, where they pulled a man from the water.
When emergency crews arrived at Bismarck Lake, just south of Interstate 70, a male bystander was holding onto the man in the water, according to Bill Stark, Lawrence-Douglas County Fire Medical division chief. Crews pulled the man up a small rocky embankment.
Stark said the man had been fishing in the lake and was waist deep in the water.
The 68-year-old man had slipped off some rocks, lost his balance, fell in and couldn't pull himself out, said Douglas County Sheriff's Sgt. Steve Lewis. The man was taken by ambulance for treatment, though he was conscious and his injuries weren't thought to be serious.
The emergency response occurred about 12:30 p.m. Thursday at the lake, which is north of North Ninth and Lyon streets.
Copyright 2017 The Lawrence Journal-World. All rights reserved. This material may not be published, broadcast, rewritten or redistributed. We strive to uphold our values for every story published.