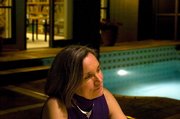 As Kansas University Provost Richard Lariviere leaves for Oregon, he takes with him the project coordinator of a popular program at KU.
His wife, Jan Lariviere, is the coordinator for UKanTeach, a four-year program that leads to a degree in math or science with a teaching license. They will both be leaving KU after Richard Lariviere was officially appointed on Friday as president at the University of Oregon.
His first day at the university will be July 1.
The two-year-old KU program has more people participating — about 105 total students — than anticipated at this time, said Joseph Heppert, chairman of the KU chemistry department and a co-director of the UKanTeach program.
"Jan has really been a tremendous role model and leader for the program," Heppert said. "We're really going to miss her."
However, he said the program remains on solid ground. After consultation with the deans of the School of Education and the College of Liberal Arts & Sciences, they decided to rehire for Jan Lariviere's position.
The program is funded by a grant from the National Math and Science Initiative. Heppert credited Lariviere for starting the program, and bringing the knowledge from a similar program at the University of Texas that she helped to found called UTeach.
Larry Abraham, a co-director for the UTeach program in Texas, said that program is now 11 years old, and has integrated itself well.
"It's just the way the university does business," he said.
The Texas program is expanding to include engineering disciplines in the program, Abraham said.
The model has not just been replicated by KU, but because the National Math and Science Initiative identified it as a model for others to replicate, similar programs exist now in 13 different institutions, Abraham said, with more in the developmental stage.
At KU, the UKanTeach program announced it had received a $25,000 grant from the Sprint Foundation last week, and is in the middle of attempting to raise $1 million to qualify for a matching grant from the National Math and Science Initiative, Heppert said.
The grant from the Sprint Foundation allows for internships to assist teachers at Southwest Early College Campus, in the Kansas City, Mo., school district.
One of the benefits of the program is that it allows students to have options as they go through their academic career, and the more exposure one gets to a classroom setting, the better, Heppert said.
As Jan Lariviere leaves KU, Abraham said it could open up an opportunity elsewhere.
"Maybe we'll get something started at the University of Oregon now," he said.
Copyright 2018 The Lawrence Journal-World. All rights reserved. This material may not be published, broadcast, rewritten or redistributed. We strive to uphold our values for every story published.