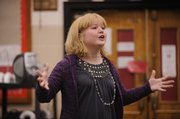 Draped in a velvet red cape and footed with Roman sandals, a 9-year-old, red-headed Marc Antony stood in front of Room 106 at Lawrence High School preparing for his speech.
It began with that classic "Friends, Romans, countrymen, lend me your ears" line pulled from Shakespeare's "Julius Caesar."
The speech took less than five minutes to recite, but Peter Downey, from Miami County, had been practicing it for weeks.
He was one of the roughly 300 4-H'ers from Douglas, Shawnee, Johnson, Wyandotte, Osage, Miami and Franklin counties participating in Saturday's Regional 4-H Day.
The event is an opportunity for 4-H'ers to practice their public performance skills — dancing, singing, acting, speaking and, in the case of Downey, impersonating — in front of judges.
The day allows 4-H'ers to develop skills they might not acquire through the projects they exhibit at the fair, Douglas County 4-H agent Mark Flory said.
Across the hall from Downey was 11-year-old Colton Hamilton. A brown, tri-cornered hat acquired for a school unit on explorers, a jacket from an old pirate's costume and a white, ruffled blouse from his grandmother transformed him into 17th-century pamphleteer Thomas Paine.
Hamilton, from Olathe, had to do a biography on Paine in school. So, he decided it could double as a 4-H project and entered in the historical speeches competition.
On Saturday, Hamilton rattled off Paine's many publications, along with his birth date and often-quoted phrase "these are the times that try men's souls."
So why the fascination with Paine?
"I drew his name out of a hat," Hamilton said.
A little farther down the hall were Anna Wenner and her 95-pound black Newfoundland dog named Nova.
They had just come from the senior demonstration event, where she explained to the judges how to pass the Canine Good Citizen test. It was a performance that required a little cooperation from Nova, who sat and lay down on command.
"I wanted to bring (Nova) to 4-H Days. She's fun to be around," Wenner said of her pick of topics.
Even farther down the hall, the Gibson family from Topeka had congregated after 13-year-old Lydia Gibson had just finished acting out a scene from Beverly Cleary's classic "Beezus and Ramona" in the auditorium.
She was joined by her older sister Mollyanne and younger brother Graham. All told, they entered about 10 events, including a piano duet from the sisters and an impromptu speech about soccer from Graham.
However, Lydia Gibson said her favorite part was getting to act on the big stage.
"You can be as loud as you want to be," she said.
Copyright 2018 The Lawrence Journal-World. All rights reserved. This material may not be published, broadcast, rewritten or redistributed. We strive to uphold our values for every story published.