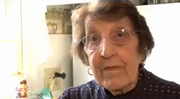 One of the hottest video hits on YouTube features a saucy, dark-haired Italian who knows her way around a kitchen.
Is it a sign of the times that it's neither Rachael Ray nor Giada De Laurentiis, but rather a 93-year-old great-grandmother named Clara Cannucciari who cooks in a kitchen that looks like it was last redecorated when Richard Nixon was president?
"Great Depression Cooking with Clara," a series of 10 videos shot by her filmmaker-grandson Christopher, shows her skillfully preparing the humble Italian-American fare she remembers from that other cash-crunched era — pasta with peas and potatoes, egg drop soup, pepper and egg sandwiches.
"It was cheap and it was nourishing," Clara Cannucciari said Friday from her upstate New York home. "My mother used to make 1/8the dishes 3/8 during the Depression. These are all simple things to make."
The videos have become an Internet phenomenon and Clara is suddenly fielding media requests from all over. She's set to appear next week on the "CBS Evening News with Katie Couric."
Her grandson describes the project, begun in 2007, as "oral history with a twist." Clara had a following from the start, he said, but added — with a laugh — that the worsening recession inspired him to step up production in November.
Christopher Cannucciari said he has heard from fans that much of the videos' appeal comes from how they capture "the experience of hanging out with your grandmother."
But let's not forget Clara's frugal approach to cooking, a strategy for survival as much now as then. Her stories about great poverty — in the winter, she said, the family buried food in the snow because they didn't have a freezer — are bittersweet, yet fascinating.
As Clara recalls in one video, "Everything was terrible," she says of the time. "But we had good food."
Copyright 2018 The Lawrence Journal-World. All rights reserved. This material may not be published, broadcast, rewritten or redistributed. We strive to uphold our values for every story published.