Photo Gallery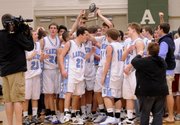 LHS boys vs. SME
That's not the way it was supposed to end.
Not even close.
Not for this Lawrence High boys basketball team. Not for the seven LHS seniors. And especially not for Dorian Green.
Friday night at Free State High, the third-seeded Lions watched their season come to an end as No. 2 Shawnee Mission East's Marcus Webb banked in a three-pointer with 3.4 seconds to play to give the Lancers a 53-52 victory in the sub-state championship game.
The shot gave East just its second lead of the night — its first since 2-0.
"I've been through three of these now," said LHS senior Green, who led all scorers with 19 points. "It's just tough. We played perfectly tonight. Well, almost perfectly. It's just sad to see it end."
That much was obvious, as, one by one, the Lions emerged from the locker room with tears streaming down their faces.
"I don't know if anyone's ever hurt so bad," LHS coach Chris Davis said.
It wasn't as much the final shot that stung as it was what had unfolded before it. The Lions outplayed the Lancers for nearly four quarters, opening up leads of 27-20 at halftime, 38-31 after three quarters and 50-41 with 4:04 to play. They outshot SM East, 51 percent to 34 percent, and committed just 10 turnovers.
In addition, LHS led by 10 twice and had an answer every time East threatened to crawl back into it. But during the final four minutes, the Lions clammed up, and the Lancers took advantage. A three-quarter-court press forced three LHS turnovers, and SM East ripped off a 9-0 run in 3:01 to tie the game at 50. The tying bucket came from Charlie Ludington, who drilled a three-pointer from the corner with 1:03 to play. After missing his first five three-point attempts of the game, Ludington finished the night 4-of-11 from downtown. As a team, East shot 9-of-24 from long range, with Webb also hitting four threes.
The one that won it was anything but pretty.
After draining the clock down to 16 seconds, junior Marcus Ray put LHS back on top with an off-balanced layup with 11 seconds to play. Many in the gym uttered the words, "too quick," after Ray scored, but Davis and the Lions believed otherwise.
"At that point, we were just trying to get anything we could," said Green, alluding to the Lions' drought of 3:53. "Marcus made a great play, got to the rim and got us the lead."
With both teams out of timeouts, East was forced to adjust on the fly. That was just fine with the Lions, who have prided themselves on defense down the stretch.
As Winn Clark raced the ball up the left side, Webb curled around a screen on the left wing, took a pass, then two dribbles, and rose to shoot. Green rose with him but only to challenge the shot.
"I was up there, I just didn't want to foul him and give him three free throws," Green said.
When asked if losing by way of the bank shot made his stomach churn, Green delivered the most realistic answer possible.
"That's the game of basketball," he said. "Sometimes those go in. If I had it my way, he wouldn't even have gotten a shot off. But you have to give him credit. He made it."
The loss dropped the Lions to 13-9 on the season and ended the careers of Green, Lance Kilburn (14 points), Robbie Wright (10), Bobby Davis (two), Michael Stanford (two), Paul Eltschinger (four rebounds, two blocks) and Chebon Dawes (four rebounds).
"Dorian and Lance were as potent a combination as I've had here," Davis said. "And then the cast of role players around them, wow, they were a true team. I heard the word 'Love' in that locker room about 50 times tonight. A lot of kids say it but don't know what it means. These guys really do mean it and I think that's why this one hurts so bad."
Copyright 2018 The Lawrence Journal-World. All rights reserved. This material may not be published, broadcast, rewritten or redistributed. We strive to uphold our values for every story published.