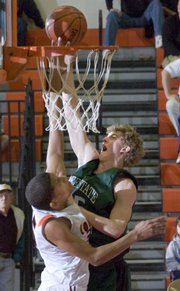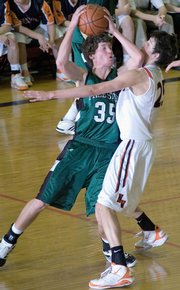 Shawnee — For a brief moment, Ryan Scott provided a glimmer of hope to the ultimate underdog Wednesday night.
Scott, Free State High's 6-foot-4 boys basketball super sub, buried back-to-back, high-arching three-pointers from the right corner for the offensively challenged Firebirds, rousing the team's bench while helping to trim a 16-point deficit to nine to end the third quarter.
Then, reality set in.
No. 1 seed SM Northwest stomped all over eighth-seeded Free State's upset dreams in what became a 51-29 blowout victory in the first round of Class 6A sub-state.
In doing so, the Cougars (17-4) held the Firebirds (1-20) to their lowest point total all season. The 22-point thrashing tied for Free State's largest margin of defeat, which also occurred the first time both teams played three weeks ago.
"They're just flat better than us on every spot of the floor, and they showed that in the fourth quarter," said Free State coach Chuck Law, who, for the second time in three games, did not allow his players to speak after the contest.
The day before, Law said his team needed to maintain possession of the basketball while also hoping for a minor miracle — that SM Northwest would miss its shots offensively.
Neither occurred Wednesday night.
The Firebirds shot relatively well (12-for-27, 44.4 percent) but never gave themselves much of a chance because of a horrendous start. Free State gave away most of its possessions just trying to bring the ball past halfcourt in the first quarter. FSHS committed more turnovers (six) than it tallied shots attempted (three) in the opening frame.
Law took the blame for not having his players adequately prepared to handle the Cougars' full-court pressure, which resulted almost immediately in a 9-0 SM Northwest lead.
It wasn't until sophomore guard Alec Heline drilled a baseline jumper more than 61⁄2 minutes into the game that Free State finally scored its first points.
"It's kind of demoralizing because we struggle to score," Law said. "To look up, and the game's not that old and we're already down 9-0 out of the shoot, that's a big hill for us to climb."
When Free State made its run to trim the score to 32-23 on Scott's threes, SM Northwest countered with a 10-0 run of its own to finish the Firebirds. SM Northwest shot 19-for-35 (54.2 percent) from the floor while committing seven turnovers to Free State's 16.
Four Free State seniors — Douglas Compton, Jake Miller, Connor Monarez and Chase Hoag — played their final games in Firebird uniforms.
Forward Eric Watson led the Firebirds with nine points. Heline scored seven and Scott six.
All three of those players return next season for the Firebirds, who pushed their exceptionally painful losing streak to 20 games.
So when Law rolls out the basketballs for tryouts in November, the hope is that Wednesday night's loss — along with the 19 consecutive defeats before that — will be at the forefront of his returning players' minds.
"They'll want to put that thing to rest," Law said. "Nobody wants to go through another season like this. I think they'll be motivated to do the things in the offseason to avert Round Two of the freak streak."
Copyright 2018 The Lawrence Journal-World. All rights reserved. This material may not be published, broadcast, rewritten or redistributed. We strive to uphold our values for every story published.