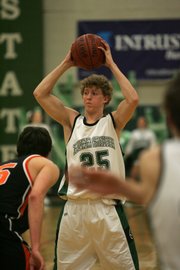 There's really no way to sugarcoat the sour predicament facing Free State High's boys basketball team tonight.
When Free State (1-19) travels to Shawnee Mission Northwest (16-4) for a 7 p.m. first-round sub-state tipoff, the Firebirds will be in for a substantial uphill climb.
"The odds are tremendously stacked against us," Free State coach Chuck Law said. "They are as good a team as there is on the eastern half of the state."
You could call tonight's contest a classic David vs. Goliath matchup, but at least that Goliath demonstrated a weakness.
These are the facts, and they are indisputable.
SM Northwest is ranked No. 7 in the state in Class 6A. The Cougars boast the top seed in their bracket and a perfect 9-0 mark at home.
If that weren't daunting enough, eighth-seeded Free State — still slugging through the worst losing streak in school history at 19 games — got walloped by SM Northwest, 60-38, in the teams' first meeting three weeks ago.
"We didn't even have a chance to play defense against them," Firebirds guard Jake Miller said. "They got all their points in transition."
Tonight, FSHS also won't have its leading scorer from that first meeting. Guard Nick Hassig, who tallied 11 points at SM Northwest, is out with mono.
But the Firebirds aren't counting themselves out just yet.
Free State guard Douglas Compton knows the pressure lies squarely on the Cougars to hold serve.
"They have state, championship hopes," Compton said of SM Northwest. "We believe that we can win if we play our game, and we have faith in the system.
"It feels like most people don't really give us a chance. I think we like that."
Law said Free State would need to play a perfect game in order to have that chance. That means slowing down the tempo and being patient offensively.
It wouldn't hurt to have a bit of luck, either.
"It's a terrible coaching strategy, but we just quite frankly have to hope they miss shots," Law said. "And then we have to find a way to rebound the ball."
For what it's worth, the Firebirds found themselves in a similar playoff underdog role two seasons ago. As a No. 6 seed, they traveled to SM Northwest and promptly knocked off the Cougars on the way to a third-place finish at state — something this year's team already has discussed, according to Miller.
However, that Free State squad entered sub-state with a record of 9-11 and more favorable matchups on the court.
"They're going to be bigger than us and more athletic than us at every position," said Law, who will rely on relatively inexperienced players including Bo Schneider, Evan Manning and Ryan Scott to help fill Hassig's void. "We go out, they're going to pound us inside. We stay in, they're going to pound us from the outside."
There is hope, though. In the teams' first matchup this season, Free State played well and trailed just 25-17 at halftime before SM Northwest ran away with the game.
Without question, it will take a Herculean effort to spring the upset this time. But Free State has nothing to lose tonight and everything to gain.
"They're the No. 1 seed," Miller said. "Anything can happen when you're the underdog."
Copyright 2018 The Lawrence Journal-World. All rights reserved. This material may not be published, broadcast, rewritten or redistributed. We strive to uphold our values for every story published.