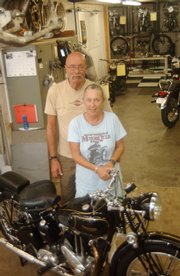 Their wedding day helped ensure Jim and Joan Vandergriff would have a motorcycle marriage.
"We had a Harley wedding," Jim said. "Virtually the whole front yard was full of motorcycles. I bought a Norton the next day."
Having reconnected with the motorcycle bug of his youth that day 22 years ago, Jim and his bride started building a motorcycle collection that now fills four rooms of what was once a goat barn on their southeast Leavenworth County farmstead. The collection is large enough that Jim insisted he didn't know how many bikes it contained.
"We stopped counting at 40," he said.
British-made bikes
Sprinkled in the collection are two Harley-Davidsons, two Buells and a few Italian and Japanese motorcycles, but the majority of bikes are British-made. Those include Triumphs, BSAs and Nortons that were popular in America before Japanese bikes started to dominate the market in the 1970s. The couple also have lesser-known English manufacturers, such as Ariel, AJS and Velocette.
"Some of these bikes are just unique," Jim said. "The Velocette Thruxton is one of 200 and something made.
"Some of the bikes, I just saw and said, 'That's really neat.'"
Jim has a bachelor's and master's degree in art, taught art for nine years at Shawnee Mission North High School and was a serious potter for two decades. He said he has talked for hours about the sculptural lines of the couple's motorcycles.
That's the appeal of the British bikes, Jim said. Form follows function with their design. Even the chopper Jim built is without the rococo flourish that clutters some custom-built bikes.
"I like real plain, simple flowing lines," he said. "I even ran the cables lines inside the handlebars. People ask why I did that. I say, 'Because I can.'"
Still, the Vandergriffs aren't bike snobs and appreciate many makes of motorcycles. They've owned contemporary BMWs, Harley-Davidsons and a Japanese sports bike.
"I had a Suzuki Hayabusa," Jim said. "It's the fastest production motorcycle made — 190 miles per hour out of the box. I had to get rid of it. I was a kid again, racing kids up on the highway and doing wheelies."
His first bike as a teenager in the 1950s was a Cushman scooter, Jim said. He moved on to a Triumph he rode to Yellowstone with friends. But riding was only part of his fascination with motorcycles, he said.
"I tore apart my Cushman and put it back together," he said.
Maintenance
The Vandergriffs regularly ride bikes in their collection and have done their share of long-distance touring.
Although he has too many motorcycles to undertake major mechanical projects, Jim is in the shop every morning from 7 a.m. to noon and returns for the afternoon, following a two-hour siesta. There he performs the routine maintenance or prepares a bike for one of the three or four shows the couple participate in each year.
"We like to make the nuts and bolts gleam and shine," Jim said. "We're kind of known for that."
Although their collection is extensive, they would like to add two rare bikes. Joan longs for a Triumph Speed Twin made from 1938 to 1940, and Jim's quest is for an Ariel Red Hunter of the same vintage.
"Pre-war," Jim said. "That was the golden age of motorcycles. Just beautiful bikes."
Other than those sought-after prizes, they probably won't be adding much to the collection. But it won't get any smaller, either.
"We rarely sell bikes," Jim said. "Sometimes when some of my bikes are gone, I miss them. It's like some of my children aren't here. There's a hole there in the shop where they're supposed to be."
Copyright 2018 The Lawrence Journal-World. All rights reserved. This material may not be published, broadcast, rewritten or redistributed. We strive to uphold our values for every story published.