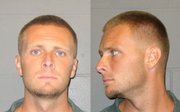 A former Kansas University student, who was arrested after a string of Lawrence bank robberies in 2002 and 2003, has been brought to Douglas County to face two charges of aggravated robbery after serving about five years in federal prison.
Jeffrey Cox, now 27, was accused in five bank robberies, three in Lawrence and two in his home state of Ohio. He was sentenced in 2004 to 87 months in federal prison for one robbery in each state.
"There was some disappointment in the fact that he only received seven years for the five counts that he was potentially facing," said Douglas County District Attorney Charles Branson.
Charges were filed locally for the additional two bank robberies he's accused of here, which federal prosecutors did not pursue as part of a plea deal. In one of the cases, Cox is accused of firing a gun over tellers' heads.
Douglas County prosecutors accuse Cox of a Dec. 10, 2003, heist at University National Bank, 1400 Kasold Drive, and the June 9, 2003, robbery of Douglas County Bank, 711 W. 23rd St.
"We felt like the seriousness of the charges and the fact that a firearm was discharged … that it was appropriate for the state system to take over and handle those charges," Branson said.
Cox pleaded guilty in federal court in the Feb. 2, 2003, robbery at Central National Bank, 711 Wakarusa Drive and a 2002 robbery in Ohio. A judge also ordered him to repay about $11,700 stolen during the two robberies.
"He claimed to be suffering from some depression," Branson said.
Cox is being held in Douglas County Jail on $100,000 bond and had his first appearance in court Monday. He faces up to 247 months, or more than 20 years, in state prison if convicted of the two aggravated robbery charges.
Branson said Cox is scheduled to return to court at 2 p.m. July 13.
Copyright 2018 The Lawrence Journal-World. All rights reserved. This material may not be published, broadcast, rewritten or redistributed. We strive to uphold our values for every story published.