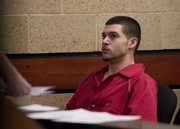 Lawrence police are seeking an attempted murder suspect after an apparent foiled robbery attempt on Friday morning.
Police have identified the suspect as James "Jimmy" Merral McAdams Jr., 19, of Lawrence.
Police said a 20-year-old Kansas City, Mo., man reported that someone tried to rob him at gunpoint just before 2 a.m. Friday.
"When the victim ran away, the suspect shot at him multiple times," according to police. No injuries were reported in the incident near 24th Street and Murphy Drive.
A warrant has been issued for McAdams' arrest, for charges of attempted second-degree murder and criminal possession of a firearm, police said. He was last known to be driving a dark green Mitsubishi Galant with a 30-day temporary tag.
McAdams was arrested for second-degree attempted murder in February in the 500 block of Fireside Drive, later changed to criminal discharge of a firearm. That case was dismissed April 28, court records state.
Anyone with information on the suspect's whereabouts or the shooting is asked to call Lawrence Police at 832-7501, Crime Stoppers at 843-TIPS, or 911.
Copyright 2018 The Lawrence Journal-World. All rights reserved. This material may not be published, broadcast, rewritten or redistributed. We strive to uphold our values for every story published.