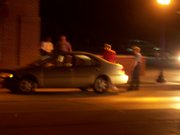 Police arrested two Topeka teenagers early Thursday morning in connection with multiple Lawrence robberies.
Officers tracked the suspects down after a strong-arm robbery at 1:50 a.m. Thursday in South Park, where two Lawrence residents, both in their 20s, told police that two men had approached them in the park and "demanded property," said Sgt. Ted Bordman.
An 18-year-old and a 19-year-old man were arrested in the 700 block of New Hampshire Street, where officers stopped a vehicle with two occupants matching the suspect description in the robbery. The suspects were booked into Douglas County Jail on multiple robbery-related charges.
The men also are believed to be connected with an early Saturday morning robbery outside Sprague Apartments, 1400 Alumni Place, where a delivery driver was robbed, according to law enforcement reports.
Police had said the suspects in that robbery also matched the descriptions of suspects in two other Saturday morning robberies along Ohio Street. A total of four people were robbed in the area within about 15 minutes.
Lawrence police said their robbery investigation is ongoing. Officers have connected the suspects only to the Thursday morning robbery in South Park and the robbery outside Sprague Apartments.
The 18-year-old was arrested on suspicion of six robbery charges and the 19-year-old was arrested on suspicion of seven, according to jail records. Prosecutors said formal charges against the men would be considered today.
At least 13 robberies have occurred on the streets of central Lawrence this year.
On Thursday morning, police also received a report of another robbery in the 1300 block of Ohio Street, around the same time as the South Park robbery.
Officers were occupied at the time of the report, trying to break up a fight. They asked the victims of the robbery to wait in front of a nearby residence until the fight was under control. Officers then tried to contact the victims but could not find them.
Copyright 2018 The Lawrence Journal-World. All rights reserved. This material may not be published, broadcast, rewritten or redistributed. We strive to uphold our values for every story published.