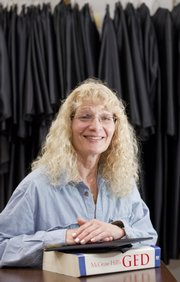 With jobs getting harder and harder to come by in these tough economic times, imagine trying to find employment without a high school diploma.
It's nearly impossible.
But 85 people will get a leg up Thursday as they graduate from the Lawrence Adult Learning Center's General Educational Development program.
Terri Dann has spent about a year in Lawrence, where she moved from New York. The 49-year-old wanted to stay in Kansas even though she couldn't get a job.
"The people are so pleasant," Dann said.
Sinead McClanahan experienced the same difficulties in landing employment. McClanahan was home-schooled for most of her 18 years and didn't get a diploma when she technically finished enough schoolwork to graduate.
"I didn't think it was a big deal to have my diploma," McClanahan said. "But it's a big deal, so I came and got it."
While McClanahan thought the general equivalency diploma test was easier that she thought it would be, it didn't hurt that she enjoyed her time at the Adult Learning Center.
"It was great," she said. "The teachers are really helpful."
Dann agrees.
"I can't speak highly enough of this school," she said. "I struggled for almost a year, but with these teachers, their understanding, their patience — it's the best experience."
Both McClanahan and Dann will speak at Thursday's graduation ceremony. Dann is hoping to touch young people's hearts and make them realize that diplomas or GEDs are important to living a fulfilled life.
"It's an accomplishment. It's worth it to come back," she said. "It's like a piece of paper that's yours. You accomplished it. That's what I want for other adults, to feel this feeling. It's a great feeling."
The ceremony will start at
7 p.m. Thursday at Free State High School.
Copyright 2018 The Lawrence Journal-World. All rights reserved. This material may not be published, broadcast, rewritten or redistributed. We strive to uphold our values for every story published.