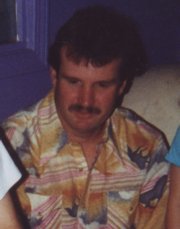 Lawrence and Topeka police officers are searching for a Lawrence man who was last seen late Friday night at his sister's home in Topeka.
Family members identified the man as Robbin Jessup, 46. His mother, Georgia Jessup, said recent phone calls to his cell phone have gone unanswered.
She said he had a mental disability, and family members are concerned because he has not taken his medication. Friends and family have put up fliers in Topeka since Saturday, and they have also searched along U.S. Highway 40 between Topeka and Lawrence, she said.
According to Lawrence police, Jessup is white, with brown hair and brown eyes, 6 feet tall and 180 pounds. Topeka police and Shawnee County Sheriff's officers are assisting in the case.
Jessup was driving a white 1995 Toyota Tacoma pickup truck with the Kansas license plate XQS 618. Anyone with information in the case is asked to call Lawrence police at 832-7501.
Copyright 2018 The Lawrence Journal-World. All rights reserved. This material may not be published, broadcast, rewritten or redistributed. We strive to uphold our values for every story published.