Photo Gallery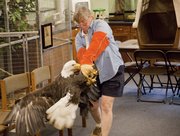 Nature center bird vaccination
This week, nine of the center's education birds were vaccinated against West Nile Virus, which can be lethal for many birds.
-->
Disease cases
The following suspected cases of mosquito- and tick-borne diseases have been reported to the Lawrence-Douglas County Health Department since 2005:
• Lyme disease: 27
• West Nile encephalitis: 3
• West Nile fever: 9
• Rocky Mountain spotted fever: 53
On the street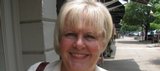 Cockroaches, because they multiply and they're scary and they get into everything.
If those annoying blood-sucking insects haven't started bugging you yet, get ready. Local health and bug experts expect a larger number of summer insects this year, as compared with last year.
"The wetter the spring and summer, the more mosquitoes and ticks," said Richard Ziesenis, director of environmental health for the Lawrence-Douglas County Health Department. "This has been a wet spring."
All the spring showers are creating prime breeding grounds for mosquitoes, he said.
Although mosquitoes are already going through the cycle of hatching eggs in standing water, maturing into adults and starting to feed on people, Ziesenis said he expects the numbers of mosquitoes will increase through the summer.
Different mosquitoes come out at different times during spring, summer and fall, said Chip Taylor, Kansas University entomologist.
"As long as wet conditions persist, we're going to have a significant mosquito buildup," he said.
Mosquitoes are most active in the early mornings and evenings, and around standing water. Ticks pose the greatest hazard to hikers, people who are fishing and others who find themselves in weedy areas or around trees, Ziesenis said.
The health department is most concerned about the diseases both insects can carry and spread. Mosquitoes can transmit West Nile virus, while ticks can carry Rocky Mountain spotted fever and Lyme disease. The diseases carried by ticks and mosquitoes are harmful not only to humans, but also pets, horses and livestock, Ziesenis said.
West Nile virus primarily circulates between birds and mosquitoes, but mammals can be infected if bitten by a mosquito that carries the disease. Symptoms for humans include fever, headache and muscle weakness.
To avoid bug bites, health officials recommend people wear bug spray containing the chemical DEET when outside. They say it's the most effective way to repel bugs, and it's best to apply it before you're bitten, instead of after the first bite.
The health department also recommends using BTI briquettes, a biological tool that kills mosquito larvae before they become flying, biting adults. The doughnut-shaped, environmentally friendly item can be purchased at hardware stores and should be placed in standing water in ditches, birdbaths and other potential breeding sites around your home, Ziesenis said.
The health department places the briquettes in public-owned ditches around town when people call in complaints, which Ziesenis said are more numerous this year. The health department will not place them on private property.
As for ticks, KU professor Greg Burg, who studies the insect, said he hasn't seen a large number of ticks in the Lawrence area during his research this year. But, he said their numbers could be delayed.
"There's got to be a fairly delicate balance between too much and too little rainfall," Burg said. "It may be that the ticks are going to come out in larger numbers from here on."
If a tick gets hold of you, the health department said you should use tweezers to slowly remove it. Also, Ziesenis recommended preserving the tick in a small jar of alcohol, so the bug can be tested by health professionals in the event you develop flu-like symptoms.
Copyright 2018 The Lawrence Journal-World. All rights reserved. This material may not be published, broadcast, rewritten or redistributed. We strive to uphold our values for every story published.