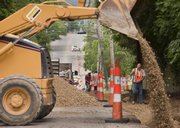 Road construction just doubled Brad Finkeldei's daily commute, and now he's actively searching for the bright side amid the orange cones, piles of gravel and a few weeks' worth of scheduled detours near his home.
No need to despair — not when safer, smoother travel lay ahead for himself and another 17,000 people who travel Ninth Street each day between Iowa and Tennessee streets.
"These are going to be great improvements," said Finkeldei, of the work to replace a water line, repave the street and rebuild the intersection of Ninth at Avalon Road.
The $678,211 road project, which started Monday, shifted into high gear Thursday morning with the closure of Ninth between Highland Drive and Emery Road. The closure is expected to remain in place through the first week in July, giving crews time to complete work at Ninth and Avalon: adding a center turn lane and realigning the intersection to improve sight distances.
Elsewhere between Iowa and Tennessee, the road is restricted to local traffic from now through Aug. 7, the scheduled completion date for the project. Such local traffic — people who live or do business in the area — may travel past the "road closed" signs, but drivers looking for a way to cut through are instead instructed to use either Sixth or 19th streets.
"We've tried to be as accommodating as possible," said Mark Thiel, assistant director of public works.
Finkeldei, an attorney, appreciates the city's commitment to improving conditions on the road he takes every day — the bulk of his 1.2-mile commute from Sunset Drive to his office at the corner of Ninth and Massachusetts streets.
The trip normally takes less than five minutes, he said, but Thursday's drive lasted for at least 10. That's what happens when you venture into an adjoining neighborhood and cruise past a city water tower before steering back onto Ninth.
He just may try Iowa and Sixth streets next.
"I'm not sure of the fastest way yet," Finkeldei said, chuckling at the unusual brevity of his familiar commute. "That's part of the fun of this: What's the fastest way to get through there?"
Copyright 2018 The Lawrence Journal-World. All rights reserved. This material may not be published, broadcast, rewritten or redistributed. We strive to uphold our values for every story published.