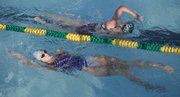 What is Ironman?
The Ironman 70.3 Kansas is an event in the Ironman triathlon series. It is known as a half-Ironman because athletes will swim 1.2 miles at Clinton Lake, bike 56 miles in Douglas County, and run 13.1 miles on the course, totaling 70.3 miles. A full Ironman competition has a 2.4-mile swim, 112 miles on the bike and a 26.2-mile run.
The event is scheduled for June 14.
Australian native and professional triathlete Pip Taylor needed a home base to train at while competing in the U.S. professional triathlon circuit. She could've picked anywhere. Maybe somewhere near a beach. San Francisco? Miami?
How about Lawrence?
Really?
While Lawrence might not seem like the ideal spot for a professional triathlete, it's perfect for her.
Taylor, 29, came to Lawrence for last year's local Ironman, and she fell in love with the town.
"It's got a small-town feel, but it has everything you need ... The community is awesome," said Taylor, who had a checklist of qualities she was looking for in a home base: close to an airport, good training facilities, a fun atmosphere.
"I seemed to be checking all the boxes," she said.
Well, everything but a beach.
Taylor's training coach, Justin Drew, agrees that Lawrence is a good place for athletes to train.
"It's a very sporting town. Lawrence works well for us," Drew said.
Taylor is joined in Lawrence by fellow Australian professional triathletes Clayton Fettell, Joey Lampe and Tim Berkel.
While Taylor will be competing in the Ironman 70.3 Kansas on June 14, Fettell, 23, and Lampe, 20, left Friday for San Francisco to compete in the Escape from Alcatraz triathlon, also on June 14. Berkel, 24, will be competing in the Revolution 3 triathlon in Middlebury, Conn., on Sunday.
The Aussie presence, accent and all, is beginning to get noticed in the local athletic community.
The group has been training at the local aquatic facilities and working with the local swim club, the Lawrence Aquahawks. Mike Soderling, coach of the Aquahawks, said that having the professional athletes train with the Aquahawks has been a boost for the younger swimmers.
"They came in out of the blue," Soderling said. "It was great ... It's really helped these kids."
May through October, the triathletes split their time traveling throughout the U.S. competing in triathlons and training in Lawrence.
Taylor, Lampe and Fettell compete in either half, or 70.3, Ironman events like the Lawrence triathlon, or in Olympic distance triathlons, which are about half the distance of the 70.3 Ironmans. Berkel competes in 70.3 triathlons as well as in full Ironman triathlons.
Fettell said that for younger triathletes the shorter-distance triathlons are a good way to gain experience and to catch the eye of sponsors to help support their career. He said the full Ironman events, which consist of a 2.4-mile swim, a 112-mile bike ride and a full 26.2-mile marathon, are usually the goal for triathletes after they compete in the shorter events for a few years.
Fettell said that with their hectic traveling schedules, it's important for the Australian group to maintain some kind of stability. And for these triathletes, that's provided by the Lawrence base.
"It's sort of like being at home," Fettell said.
Copyright 2018 The Lawrence Journal-World. All rights reserved. This material may not be published, broadcast, rewritten or redistributed. We strive to uphold our values for every story published.