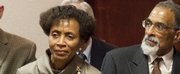 Look back at the process that led Kansas University hire Bernadette Gray-Little as its 17th chancellor.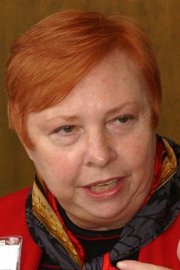 Barbara Atkinson will spend about six weeks as Kansas University's interim chancellor, beginning July 1.
On Thursday, the Kansas Board of Regents — meeting by conference call — appointed Atkinson, who serves as both executive vice chancellor of the KU Medical Center and executive dean of the KU School of Medicine. She will take over for outgoing KU Chancellor Robert Hemenway, who will step down at the end of this month.
Kip Peterson, spokesman for the Regents, said Atkinson would serve in the role until Aug. 15, when Bernadette Gray-Little, currently the provost and executive vice chancellor at the University of North Carolina-Chapel Hill, will take over the position.
"I hope to ensure a seamless transition during the period between Chancellor Hemenway's departure and the arrival of incoming Chancellor Gray-Little," Atkinson said in an e-mailed statement. "My goal is to provide consistent leadership to the university and to provide Chancellor Gray-Little with any information she may need to successfully lead KU."
Atkinson will continue to perform in her other positions, and intends to spend time on both the Lawrence and Medical Center campuses throughout the summer.
Regents Chairwoman Donna Shank said in a news release that she was delighted that Atkinson had agreed to lead KU during the interim period between chancellors.
"Dr. Atkinson is perfectly suited to preserve the continuity of university leadership, and I know that she will ensure a smooth and seamless transition," Shank said.
Atkinson will receive no additional monetary compensation for her role as interim chancellor. In the current fiscal year, her total compensation is $534,876.
Copyright 2018 The Lawrence Journal-World. All rights reserved. This material may not be published, broadcast, rewritten or redistributed. We strive to uphold our values for every story published.