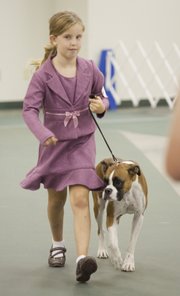 Nine-year-old Tessa Gottenstein can rattle off the reasons why it is easier to show her one-year-old boxer, Meg, in front of a judge than her heifer, Miss Licorice.
It turns out the young cow is both strong and stubborn. And she requires a bit more practice than the dog.
"It doesn't get stuck in her head," Tessa said of training Miss Licorice. Fortunately, it does for Meg the boxer, who in the last year has made great progress in sitting and stopping on command.
Daisy Johnson, who was showing her four-year-old black lab Kady on Saturday and will show a red heifer in a week and a half, agreed with Tessa's assessment.
Her dog isn't as strong. She doesn't eat as much. And she's a "little easier to get places," Daisy's mom, Debbie Johnson, said.
But the basic principle — attempting to show the animal in the best light — is the same. And to do that, Daisy wore a smile, kept looking back at the judge and always made sure she never walked in front of her dog.
Tessa and Daisy were among the 11 4-H'ers participating in the Dog Show at the Douglas County Fairgrounds on Saturday afternoon. Owners and their dogs competed in the showmanship, obedience and costume categories. That morning, the fairgrounds were home to the pet show — featuring cats and handheld pets.
For Tessa, that meant showing both her dog and two pet rats, named Sugar and Sage, on the same day.
Household pets were the first animals to make their appearance at the fairgrounds this summer. Over the next week and half, horses, cows, pigs, sheep, chickens and many more animals will take up residence there as part of the 2009 Douglas County Fair.
Compared to some of the other animals that will start rolling into the fairgrounds, parading a pet in front of a judge might seem like a far easier feat.
But it's a skill that the group of 4-H'ers had been working on all year to perfect. Many practice once a week at a local kennel and have been training their dogs since they were puppies.
"It's more like a family than other projects because you work with them every week," 17-year-old Chris Berg said of the group.
Berg started training dogs when he was 5, following in the footsteps of his older brother. On Saturday, he was the only one to compete in the graduate novice category of the obedience competition.
Among the challenges he faced was having his miniature Sheltie Skye to be off-leash and follow him in a figure eight pattern. The dog also had to command and then drop to the floor. Then there was the task of having Skye sit and not move for a few minutes as Berg left the room.
With a goal to practice 10 minutes a day year-round, dogs require more work than the other animals Berg takes to the fair. But he admits they are easier to handle than sheep.
"Sheep are something else," Berg said.
Copyright 2017 The Lawrence Journal-World. All rights reserved. This material may not be published, broadcast, rewritten or redistributed. We strive to uphold our values for every story published.