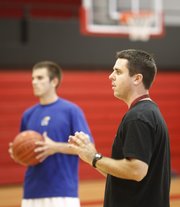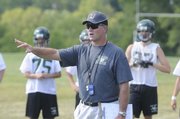 The following is the first installment of a three-part series that examines the impact of a recent rule change by the Kansas State High School Activities Association regarding extended summer contact by coaches in basketball, football and volleyball.
Here's what's ahead:
Saturday: A look at the potential concerns, including burnout, that could crop up because of the rule change.
Sunday: College coaches weigh in on how the new rule could make Kansas athletes more heavily recruited.
Last September, the Kansas State High School Activities Association adopted a new rule that, in all likelihood, will alter the landscape of high school basketball, football and volleyball throughout the state for years to come.
At its Sept. 17, 2008, meeting, the KSHSAA Board of Directors voted (42-26) in favor of a rule that would allow coaches in those three sports to have extended contact with their athletes during the summer months.
Although growing pains of increased summer practice time have been evident during the initial stages, the overall feeling throughout the city is that the new way is good for high school athletics.
"Any time you can get out and work with kids and work on fundamentals, that's only going to help," Free State High football coach Bob Lisher said. "It's almost like having spring football."
The change in the philosophy of what summer's all about brings to town the concept of year-round athletics. No longer do high school athletes pinpoint the offseason as the only time to bulk up, increase stamina and fine-tune sport-specific skills. Now, at least in some capacity, they're thinking basketball, football or volleyball 365 days a year. While some contend that such a schedule could be overkill, the dissenting voices don't appear to come from inside the locker room.
"I don't see it that way at all," said Free State senior Michael Lisher, a starter with both the football and baseball teams. "If you don't do it, everyone else is. It's kind of turned into a full-time thing. A lot of kids just see it as something they have to do, which is no big deal because that's what we've always done."
Others, like Free State's Chantay Caron, who plays basketball and volleyball at an elite level at FSHS, said the new system can benefit an entire team well before it begins tracking wins and losses.
"I like it a lot because it's a lot easier for us to fix everything now instead of when the season arrives," Caron said. "Then we can just get it and go. Getting to know the younger girls now and see what they're capable of in the summer is probably the best thing."
New rule explained
Specifically, the rule for summer contact now states that "volleyball, football and basketball coaches have an eight week period at the beginning of the summer to coach their athletes. Beginning with the Saturday before Memorial Day (May 23) and concluding on July 18 (Saturday), volleyball, football and basketball coaches may coach their athletes without restriction like coaches in other sports. Coaches may accompany their team to college camps, conduct their own camp at their school and serve on the staff of a college camp without regard to a 10 percent limitation. Coaches may coach their athletes individually, in groups or in open-gym settings, or in competitions such as summer leagues, 7-on-7 leagues, etc."
The new language brings these three sports — at least two of which remain the most popular throughout the state — to a position of equity with the other sports offered by KSHSAA that have not been restricted in the past.
High school baseball coaches, for instance, have been able to work with their ballplayers in the summer for years. Same goes for track, cross country, soccer, swimming, golf and tennis. Many of those sports, of course, emphasize the individual over the team, but regardless, those coaches have had nearly unlimited access to their athletes in the summer during recent years.
Now basketball, football and volleyball coaches enjoy the same luxuries, which, according to all of them, will only help their athletes in terms of individual development and team growth.
"It's a little more productive," FSHS boys basketball coach Chuck Law said. "I'm not going to go overboard and actually practice, but we have incorporated a few new things in terms of what we do. In the past, I opened the gym and I could be there to watch but couldn't do any active coaching. My guess is the vast majority of coaches out there are not doing anything different. I do make it known that the opportunity is there, though. Each week, you've got four hours of gym time with your coaching staff, and two-to-three hours of conditioning time to get in better shape and get stronger. It might behoove you to take advantage of it."
For the most part, Wedd and Lisher — as well as the volleyball and basketball coaches at the two public high schools — have done the same things this summer as in the past; they've just done them more regularly and for a bigger chunk of the summer calendar with no restrictions on the number of athletes working out together at a given time: early-morning weights, an hour or so of drills and conditioning and seven-on-seven games in the evenings each week.
"We get out pretty much every day after weights and we work on fundamentals of offense and defense, all aspects," Lisher said. "You name it, we do it."
Fall sports
The new rules figure to have the greatest impact on football and volleyball because the fall sports are first to come up on the high school calendar. But KSHSAA's changes regarding what can and can't be done in the summer have made a positive impact on all three sports.
Take boys and girls basketball, for instance. Under the old rules, high school basketball coaches in Kansas had little or no chance of gaining anything more than individual improvement during the summer months. Coaches continue to stress individual attention and now are able to work on building the concept of team through actively coaching their rosters in both tournaments and practice-type settings.
"I think the best thing about the new rules is that they help establish your program and your expectations in the summer," Free State High girls basketball coach Bryan Duncan said. "To be honest, I don't think the new rules have changed the way many of us do things. But the opportunity to do more is there now."
Do more they have. Within reason. Most of the city's coaches said that the new rules did not change their outlook on the summer too drastically. For one, they understand their athletes have other commitments and they also realize the summer months traditionally have been a time for student-athletes to let loose and get away from the grind of homework, practice and a more structured schedule.
"What we've tried to do is not infringe on the kids anymore than we have been outside of here and there," Lawrence High football coach Dirk Wedd said.
For the city's football programs, the new rule offers a chance to catch up with teams from neighboring states.
"We've always butted heads with Missouri because they were able to coach their kids," Wedd said. "It's been so difficult. You either had to send someone who's not part of your staff to coach your kids or a former player. Now we can have our coaches out there and can actually coach."
That becomes particularly important for a team like Free State, which is coming off the best season in school history and seems hungry to build on the momentum of playing in the Class 6A state title game.
"There's just a lot more we can do now," Lisher said. "We can work a lot more on fundamental things, getting people in the right positions and putting in some of our playbook. It's just going to help make us better all the way around. It's good for kids and good for football."
Added Wedd, who said he expects to field one of the youngest LHS teams in history this fall: "I think we're further along than we would be. I think they understand our terminology already. (Assistant) Coach (Adam) Green has them moving along defensively and, offensively, we're in better shape than we would be without this time."
New coaches
The leniency with regard to summer contact has been especially huge for first-year LHS basketball coaches Nick Wood and Mike Lewis. Lewis was named Chris Davis' replacement in late June after three years as his assistant. Although he's familiar with the team he inherited, running a program differs greatly from functioning as a right-hand man. For Lewis, the new rules have offered an opportunity to find comfort in his new role.
"It did allow me to step up and provide that leadership and make it known and clear to the guys that I am the head coach and these are my expectations," Lewis said. "You could call it a warm-up to the preseason and then our regular season, and I think it's been great, but it's also been a little bit of a challenge because you're not dealing with your whole team."
Wood, who replaced Kristin Mallory as the girls coach in May, has run individual and team workouts twice a week and also been able to coach his new team from the bench in the Sunflower League's summer session.
"Personally, I love it," Wood said. "As a new coach, it gives me a chance to get to know the girls before tryouts begin in November. On top of that, it gives the girls a chance to get to know me. I think it's a huge advantage. It almost takes that mystery of having a new coach out of the equation by the time the season rolls around."
Copyright 2018 The Lawrence Journal-World. All rights reserved. This material may not be published, broadcast, rewritten or redistributed. We strive to uphold our values for every story published.