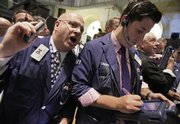 Washington — Rejecting pleas to save CIT Group Inc., the Obama administration decided that the possible loss of the nation's biggest lender for entrepreneurs and minority-owned businesses did not warrant tapping a politically unpopular bailout program financed by taxpayers.
In the end, the administration said CIT did not meet the standards for aid. It was financially hobbled after a weeklong downward spiral of borrowers drawing down credit lines and creditors pulled their backing.
The firm's solvency also was in doubt as the loans on its books lost value.
Unlike Detroit automakers that were bailed out, CIT was not backed by powerful labor unions that could mobilize voters ahead of midterm congressional elections next year.
"The reason CIT didn't get rescued is because it didn't have enough clout," said Jonathan Macey, deputy dean of Yale Law School and author of a book on Sweden's bank bailout. "If they had just had a few more labor unions and special interest groups, they might have (been saved), and that's extremely discouraging."
CIT, whose borrowers include restaurant franchises, airlines and clothing stores, had already received $2.3 billion from the government's $700 billion Troubled Asset Relief Program.
In recent months, it had already begun cutting back on lending. Absent a deal with private equity or bondholders to strengthen the firm's equity, CIT will likely file for bankruptcy protection.
A Treasury spokeswoman said regulators had hoped to rescue CIT with the same lifelines it had offered other firms, including money from the financial bailout or a brokered deal with another lender.
But she said the company failed to shore up its position, including raising private capital.
Giving CIT more money after its initial capital injection in December would have meant throwing good money after bad, she said, adding that Treasury is exploring options for recovering some of the taxpayer money should CIT file for bankruptcy protection.
After spending tens of billions of dollars on banks, automakers and insurance firms, the administration's decision marked the first time it set a limit on the types of institutions it deems too big and too interconnected to be allowed to fail.
Copyright 2018 The Associated Press. All rights reserved. This material may not be published, broadcast, rewritten or redistributed. We strive to uphold our values for every story published.