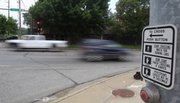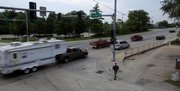 A pending road project that is expected to snarl traffic in North Lawrence is creating concern and animosity about how fire and medical crews will respond to emergencies in the area.
"This has become a battle," said Ted Boyle, president of the North Lawrence Improvement Association. "I can tell you that North Lawrence residents and the North Lawrence Improvement Association are really upset with City Hall."
At issue is how fire and medical crews will be able to timely get through the intersection of North Second and Locust streets once work begins this month to rebuild the section of street that carries 27,000 vehicles per day.
Boyle's group has asked the city to place a fire engine in North Lawrence for about four hours per day to ensure that a fire and medical crew can quickly respond during times of heavy traffic in the morning and evening.
But Fire Chief Mark Bradford has said he doesn't think that would be the best use of the city's resources. Instead, he's proposing an alternate plan that would involve sending crews from two separate fire stations to improve the odds that at least one crew will arrive in a timely fashion. The city also plans to program an existing traffic light on North Second street to better accommodate emergency vehicles.
Boyle, though, thinks the city is underplanning for an emergency event.
"I always thought you plan for the worst and hope for the best," Boyle said. "It seems like they do it just the opposite."
Boyle said he's concerned that traffic is going to become unmanageable along the city's designated detour route, especially when vehicles have to stop for one of about 80 trains that run through North Lawrence each day.
The city's current traffic plan calls for the North Second and Locust intersection to be closed to northbound traffic. Vehicles instead will detour onto Elm Street to Third Street and over to Lyon Street before returning to North Second Street.
The detour includes an at-grade crossing of the busy Union Pacific Railroad line. Boyle said city leaders are underestimating how backed up traffic will become when all northbound traffic is forced to stop for a train.
But Bradford said his office has studied the situation thoroughly. He said he can not recommend taking a fire truck out of the city's downtown station to place in North Lawrence because call history shows that an emergency is more likely to happen south of the Kansas River.
"All of this is just about risk management," Bradford said. "I can not look into my crystal ball and say where the calls will be. What I'm trying to do is come up with the best response plan for the entire city."
Bradford said the only other option is to pay a crew overtime to staff one of the department's reserve trucks for about four to six hours per day.
"In times like these, that is difficult to pay for," Bradford said.
Thus far, city commissioners are siding with Bradford.
"Public safety is everybody's No. 1 concern, but at this point, I have to place my trust in the chief," City Commissioner Mike Amyx said. "But we'll monitor it closely. In the first couple of days of construction, we'll know whether this is going to work."
Work to rebuild the intersection could begin as early as July 20. Traffic is expected to be restricted to one lane into November.
Boyle said North Lawrence residents will be watching closely.
"You can bet after a few days that city commissioners will be getting phone calls at home, at work, in the middle of the night to chat about this," Boyle said.
Copyright 2018 The Lawrence Journal-World. All rights reserved. This material may not be published, broadcast, rewritten or redistributed. We strive to uphold our values for every story published.