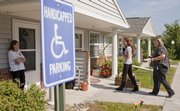 Eudora — Retirement is meant to be a relaxing time in one's life.
Unfortunately for residents of Eudora's Pine Crest III Apartments, 703 W. Eighth St., the past seven months have been anything but peaceful.
"I am more mad than disappointed — just plain mad," said Clarice Morriss, who has been a Pine Crest III resident since 2002. "We've paid our dues, and the only thing we want in return is a little bit of respect."
That sentiment was echoed by many residents in the Pine Crest III community Thursday after multiple complaints led to a visit by inspectors from the Kansas Housing Resources Corp., who spent the morning combing each unit for state violations.
"The reason that we are out here today is we received a number of tenant complaints, and we are here to make sure that the residents are taken care of," said Sheila Robles, KHRC inspector.
The complex is for elderly or disabled residents, many of whom require housing assistance from the Lawrence-Douglas County Housing Authority. Since December, many residents have been less than pleased with the maintenance schedules from the complex's management company, Overland Park-based Cohen-Esrey Real Estate Services LLC.
Allegations of overdue maintenance requests and unpaid bills on behalf of Cohen Esrey materialized in September 2008 when the city of Eudora was forced to shut off utilities to the complex's recreation building for non-payment.
City officials said that, since that time, payment for utility services has been sporadic and often late. After various and ongoing complaints, the KHRC made a visit to the property Thursday to investigate the matter.
Following inspection of 17 of the community's 36 units, KHRC didn't fail any unit but did walk away with major concerns about apparent infestations that many residents are dealing with.
"I am getting spiders in my apartment, and I hate spiders," said Marilyn Livingston, a resident of seven years. "They haven't had anyone in to spray. I don't even remember the last time."
The KHRC inspectors confirmed that the complex was scheduled to be sprayed by an extermination company in March, and that visit has not yet been made. Inspectors also said many of the problems at the complex were due to a lack of consistent management presence.
"That would fall on the management company," Robles said. "Part of our responsibility as the state oversight agency is to ensure that all of the bills are being paid by the property … and that all of the residents are taken care of."
The district manager from Cohen Esrey declined to comment for this story.
The KHRC is continuing its inspections today (Friday) and is expected to address its concerns with Cohen Esrey in coming weeks.
Copyright 2018 The Lawrence Journal-World. All rights reserved. This material may not be published, broadcast, rewritten or redistributed. We strive to uphold our values for every story published.