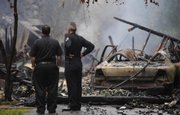 Hartford, Conn. — An advertising executive taken from his burning home after holding his ex-wife hostage in a 13-hour standoff with police was arraigned Wednesday while lying in a Connecticut hospital emergency room.
Richard Shenkman, 60, was shackled to his hospital bed, heavily sedated and surrounded by police, corrections officers and security guards as Judge Brad Ward set bond at $12.5 million, defense attorney Hugh Keefe said. Shenkman is expected to be transferred to a prison Thursday and is due in court July 14.
"He's been fading in and out of consciousness," Keefe said. "But he was mentally alert enough for Judge Ward to arraign him."
Shenkman was in stable condition at Hartford Hospital being treated for smoke inhalation. The bedside arraignment took place less than 24 hours after Shenkman allegedly kidnapped ex-wife Nancy Tyler and held her hostage in the suburban home they used to share in South Windsor. He held police at bay for 13 hours, telling negotiators he would blow up the two-story house with 65 pounds of explosives, authorities said.
Tyler escaped at about 9:30 p.m. with handcuffs dangling from one wrist, and Shenkman allegedly set the house ablaze before surrendering after midnight.
Shenkman is charged with kidnapping, arson, reckless endangerment and the illegal discharge of a weapon.
He had conceived the standoff as a "suicide mission," with piles of paperwork downloaded from the Internet on how to kill himself "ranging from (carbon-monoxide) poisoning, hanging and blowing up a house with explosives," according to police statements released by the courts Wednesday evening.
It was just one of many chaotic episodes in the history of a man described by authorities as a threatening, angry ex-husband. He already faced charges of setting fire to another Connecticut house in 2007 rather than turn it over to Tyler.
Court records say Shenkman frequently violated a protective order and repeatedly threatened Tyler's life and his own, saying the only way they would become divorced was if one of them died.
Voicemail messages, e-mails and handwritten notes in the divorce case file show Shenkman's intense mental anguish.
"I am totally broke. In money. Mind and spirit. All I have left is the ability to shout to the world what you and Nancy have done to me, her children and herself," Shenkman wrote in a July 2007 e-mail to Tyler's attorney.
At times, he used those messages to paint himself as a needy, groveling victim: "I need help praying. You and I could say a prayer together ... Please call me, please call me, please call me. Please," he begged in a voicemail to Tyler.
Frequently, he alluded to suicide: "Nancy, I want to call you back and give you a location. You can call the police and have them go there and find me," he said in another voicemail message.
Often, however, he was menacing: "My goal is to destroy everything because she has destroyed my family and me," Shenkman wrote in a May 2007 e-mail to Tyler's attorney.
Shenkman and Tyler, 57, married in 1993. Court records show it was a third marriage for him and a second for her.
"Sometime in late 2004 Nancy withdrew from our relationship. My fatal mistake was not confronting it," Shenkman wrote in that May 2007 e-mail to Tyler's attorney.
After three years of contentious divorce proceedings, a judge granted the divorce last year, but Shenkman has been appealing. On Tuesday, the state Appellate Court rejected Shenkman's appeal.
Copyright 2018 The Associated Press. All rights reserved. This material may not be published, broadcast, rewritten or redistributed. We strive to uphold our values for every story published.