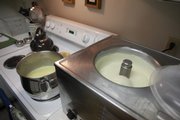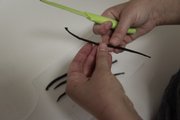 Mmmm, ice cream!
A few facts about America's favorite frozen dessert:
• July is National Ice Cream Month, with July 19 set as National Ice Cream Day.
• According to the International Dairy Foods Association, about 9 percent of the milk produced by United States dairy farmers is used to make ice cream. The cold stuff amounts to about $21 billion in sales each year in the U.S. alone.
• Regular ice cream accounts for 62.4 percent of the frozen dessert market, followed by low-fat and nonfat ice cream at 25 percent, frozen yogurt at 4.4 percent, water ice 4.1 percent, sherbet 3.4 percent and other 0.8 percent, according to the USDA.
• The most popular flavors making up that billion-dollar industry? Vanilla (30 percent), chocolate (10 percent), butter pecan (4 percent), strawberry (3.7 percent) and mint chocolate chip (3.2 percent), according to the NPD Group.
-->
-->
Even in a tough economy, the pull of something cold and sweet on a scorching July day is enough to make anyone part with $5 for a gallon of rocky road.
But if you can part with more than that, you can have ice cream your way anywhere, anytime and with (brownie bits!) or without (high-fructose corn syrup!) any ingredient you chose.
Yep, these days, for about $50 you can get a basic ice cream maker and be set for life, through good economies and bad. And we're not talking your grandma's ice cream maker; today's models make it better and quicker than the ice-and-salt bucket variety.
Call Nichole Hoffman and Paige Vandegrift converts. The local chefs — Hoffman is a dessert expert at The Burger Stand at Dempsey's, 623 Vt., and Vandegrift is a private chef in Kansas City, Mo., who teaches classes at The Community Mercantile, 901 S. Iowa — are strong supporters of homemade ice cream despite having some major reservations at first.
"I had never made it before. It always seemed really interesting, but I thought it was really hard. My grandparents had an ice cream machine with one of those old cranks, so whenever I thought of making it, I thought of that. It just didn't really sound like fun. I just remember it always taking a really long time," Hoffman says. "But it's a lot of fun."
For Vandegrift, time wasn't the problem, it was belief in her machinery.
"My making ice cream is 100 percent from working as a chef in restaurants. The thing that surprised me when I started teaching classes and when I started doing private dinners, which is what I do now, is how easy it is to make at home with a simple machine. Because in restaurants, of course, you have pretty high-powered machines," she says. "The new machines with the chilled canisters are very efficient. It's very easy."
I scream, you scream
When looking at a label of store-bought ice cream, it's pretty easy to catch a chill from the open freezer while skimming the long list of ingredients. But in truth, ice cream is nothing much more than milk, cream, egg yolks, salt, sugar and flavor (vanilla, chocolate, etc.). Yep, that's all you need to make it.
Well, that and a pinch of patience and a dash of planning.
While the new machines are simple, they do require a bit more forethought than a quick trip to the store. On most modern models, a canister must be frozen ahead of time, for about 24 hours, before ice cream can be made. Vandegrift suggests just storing the canister in the freezer all the time if you have the room. That way, it'll be ready when you are.
The second bit of planning comes to the actual ice cream base. For a custard base — preferred by both Vandegrift and Hoffman — a mixture of eggs, cream, milk, sugar, salt and vanilla must be made and then allowed to cool before being put in the machine. Put it in there while it's too hot, and it'll tax the machine. But this, too, can be remedied, says Vandegrift.
"If you're in a hurry, you can make the custard and then you can have a big bowl of what's called an ice bath, which is a big tank of ice water with ice in it. You put salt in that to make it even colder. And then you put your bowl with hot custard into that ice bath and then stir it, and it will get cold very rapidly," she says. "And within a half an hour you would have a cold custard that you could then run. And then it would take about 20 minutes."
Vandegrift's favorite method, though, is to make custard in the morning, let it cool throughout the day in the fridge, put it in the machine before dinner and then let it firm up in the freezer — going from soft-serve to the consistency of true ice cream — until after dinner.
Better than store-bought
What do you get for the time and effort? A chance at being Ben or Jerry — anything's possible, from real vanilla bean to double-chocolate chunk. The sky's the limit.
"There's just so many things you can put in there," says Hoffman, who has perfected a strawberry and lemon ice cream for the summer season. "All you have to do is add things to your vanilla."
Vandegrift recommends that if you're not going by a specific recipe to add those extra special things like cookies and brownie bits before transferring your "soft-serve" to the freezer.
But no matter what you add, both attest it'll be better than what you can pick up ready-made.
"We're just past strawberry season, but ice cream made with Farmers' Market local strawberries is nothing like anything you can get in the store," Vandegrift says. "It's far better."
Copyright 2017 The Lawrence Journal-World. All rights reserved. This material may not be published, broadcast, rewritten or redistributed. We strive to uphold our values for every story published.