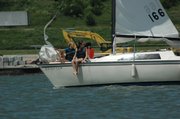 Summer camp is supposed to be self-discovery on some far away lakeside location while bunking with new friends and telling ghost stories.
A special group of girls is getting a somewhat similar experience right here in Lawrence, but Kansas University's Project Discovery isn't like any other summer camp.
Instead, it's a place where time on the lake is spent checking out an autonomous sailboat, the accommodations mirror college life and algebra replaces ghost stories.
A week-long experience centered around introducing girls to the male-dominated arena of engineering, Project Discovery is an oasis for teens interested in applying science to the real world.
Girls like Addison Bollaert.
The Lawrence resident has always loved airplanes. She used to want to be a pilot, but that all changed with a simple suggestion from her father.
"My dad said, 'I think you should be an engineer because there's not enough women in engineering,'" she recalls. "And I said, 'Well, is there anything that has to do with airplanes?' and he said, 'Aerospace engineering.' So, I started looking into it and I got really excited."
Addison is exactly the type of student the KU School of Engineering is hoping to attract to a program that already boasts a higher-than-average female graduation rate.
Nationally, only 18 percent of engineering degrees go to women, according to statistics from the American Society for Engineering Education. But at KU, 20.5 percent of engineering degrees in 2007 were earned by women, says Jill Hummels, the school's spokeswoman. KU's numbers used to hover around the national mark back in 2000, and Hummels says the school's increase in its ratio of women to men can directly be attributed to hard work in programs such as Project Discovery.
"The camps help us show the girls that engineering is fun, involves exploration and curiosity and can be the ultimate helping profession," Hummels says.
The numbers get even better when you break it down by area of interest, says Florence E. Boldridge, director of diversity programs for the school and the organizer of Project Discovery.
"In this past year, the number of females that entered the School of Engineering into chemical engineering were the same as the young men," Boldridge says.
Boldridge says that the idea for Project Discovery formed about 14 years ago, and in more recent years there have been two session a summer, each with about 20 to 25 girls spending a week getting acquainted with all there different areas of engineering, from aerospace to architectural. The second and final session this summer will run July 12-18. The cost is $400, which includes lodging at a KU residence hall, meals and supplies. The program is designed for high school age girls, but Addison received a special exemption to attend despite being 12 an a soon-to-be eighth grader at West Junior High School.
"I've done some other camps here," Addison says. "But they really didn't cover what I wanted at the level I wanted to learn about."
Frances Zhu, a 16-year-old from Overland Park and a soon-to-be senior at Blue Valley North High School, says that while that may not sound fun to some of her friends back home, she's having a blast.
"I think it's really fun," Frances says. "We're doing more hands-on stuff than actual lecturing, so it's a lot more interesting than one would think it is."
Addison says that she hopes to attend the camp again next year and can't wait to be in college herself, competing with the boys.
"I think it would be really cool to be able to come here and kick butt and be in the top of the class of a male-dominated area," she says. "I think it would be really awesome if I could do this and try to incorporate more women into this program."
Copyright 2018 The Lawrence Journal-World. All rights reserved. This material may not be published, broadcast, rewritten or redistributed. We strive to uphold our values for every story published.