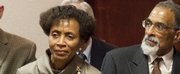 Look back at the process that led Kansas University hire Bernadette Gray-Little as its 17th chancellor.
Kansas University's new chancellor talked about budget cuts, sports and her new house in a wide-ranging interview Tuesday.
Bernadette Gray-Little spoke by phone from her office in Chapel Hill, N.C., where she will serve as provost of the University of North Carolina until becoming KU's chancellor on Aug. 15.
Q: Since being named chancellor, you've had a chance to visit KU's campus. What's your impression of the school and of the people you've met?
A: One thing I had hoped and was confirmed for me was that there are an awful lot of people there who love the university and love being a part of the university and want to see it do well and be as good as it possibly can be. And that's the kind of setting I want to be in. So that was all very affirming. I think certainly one of the big things that's going on there now is how to respond to the budget, which is one of the big things going on here. So that felt all too familiar.
Q: How have those budget cuts been handled in North Carolina?
A: I think there's not a lot of excess. What happens is there are programs of enrichment and expansion at the university, and at a time like this, many of those get cut. And then you focus on how can we get the teaching done, how can we make sure the research gets done? You keep those things going because they are fundamental. I think that another focus has been on — where possible — to retain positions of faculty and staff, but that has not always been possible.
Q: Do you think your own particular background will help increase diversity at KU among students, faculty and staff?
A: I hope that it will say to students that this is a place that is welcoming to people of different ethnic/racial backgrounds, that it will say to women that women can be in leadership positions here, that it will say that you can come from another part of the country and be welcome in Kansas.
Q: You're coming into a position with two major vacancies in the provost's office and at the dean of the College of Liberal Arts and Sciences. Any plans on how to fill those?
A: I will try in the very short term to get the process of a provost search started, and one of the things that I will need to assess and I can't say right now is whether we will try to get an arts and sciences search started right away or whether we try to do that a little bit later, hoping that we get the provost position filled first. So we might stagger them somewhat. But certainly the provost search we will get started as soon as we can actually get it together, get a committee together.
Q: What's the proper role of athletics in a university setting?
A: The university is an academic institution, and so I believe that the academics are the important part of it, the teaching, the research and the related activities are the central reason the university exists, and I don't think there's any benefit to losing sight of that. I believe that athletics can contribute to that in that it contributes to the community that the academics occur in.
And the relationship of the faculty, staff and students and alumni to the university are strengthened by a thriving athletics program. I think that it can enhance the university experience for the people who are there, but, again, the university is an academic institution.
Q: What's at the top of your to-do list at KU?
A: Because (Aug. 15) occurs so close to the beginning of the school year, I will be involved in many beginning-of-the-school-year kind of activities just as a matter of course with the new students coming in, the new faculty, so I'll be hoping to get prepared for that.
But, in a more general way, what I'd like to do in the first few weeks is to get a deeper knowledge of many aspects of the university. … While I've read about the university, looked at the Web site and talked to people, I still feel the need to have a much deeper knowledge, and so I'm going to be trying to learn as much as I can about the university, about its role in the state, meeting with friends of the university, with members of the Legislature and so on.
Q: Any plans for when you move into the chancellor's house on campus?
A: It is a beautiful house. I've only seen a small portion of it. ... It's certainly a beautiful house in a beautiful spot. I believe there may be some painting that's going to be done, interior painting, and some carpeting, but I don't know the spaces that are being painted, I haven't seen them.
Visit higher education reporter Andy Hyland's Heard on the Hill blog.
Copyright 2018 The Lawrence Journal-World. All rights reserved. This material may not be published, broadcast, rewritten or redistributed. We strive to uphold our values for every story published.