Photo Gallery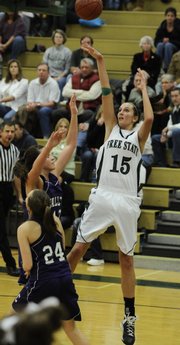 Free State girls vs. Valley Center
Well, that seemed familiar.
From the fast start and offensive explosion right down to the purple hue of the opponent's jersey, the Free State High girls basketball team turned in its second straight dominant performance Friday, blitzing Valley Center, 53-26, to earn a berth in today's championship game of the Firebird Winter Classic.
Just how good were the Firebirds in this one? So good that head coach Bryan Duncan could muster but a single word to explain how his team shot 59 percent, committed just six turnovers and ran away with the game in the first quarter.
"Wow," Duncan said. "There were five or six different times tonight where I turned to our assistant coaches and just said, 'Wow.' There was nothing else you could say."
Never has Duncan said so much by saying so little.
Feeding off the energy they generated in Thursday's first-round rout of Topeka West, the Firebirds (7-5) jumped out to leads of 10-0 and 20-2 before leading, 26-7, at halftime.
Valley Center, which took the Firebirds to the wire in the season opener in December, shot just 2-for-22 in the first half and did not score a field goal until the 3:00 mark of the second quarter.
"Our girls executed the defensive gameplan extremely well tonight," Duncan said. "And I think our defense is even getting better."
There's no question that the offense is. Juniors Chantay Caron and Ashli Hill have begun to play with a serious swagger, and the rest of the Firebirds have rallied around it. That duo once again led the way for the Firebirds on Friday. Caron, becoming more and more comfortable at point guard with each day, scored 15 points on 6-of-7 shooting. Hill added 11 points and recorded six assists and five blocks.
Even senior Ashleigh Allam, known previously as a defensive scrapper, got in on the action, scoring 10 points and finishing with a game-high nine rebounds.
The most impressive part of Allam's performance did not show up on the stat sheet. But it was evident in the mirror. Allam broke her nose after getting smacked in the face while going for a loose ball in the second quarter. She finished the game and shrugged off the injury on her way out of the gym.
"This is incredible," Allam said. "We've been working toward this all season, and we're finally playing like a team. We know what we're capable of now, and that just gives us even more confidence."
So, too, did the support of their home fans. Playing in front of one of the biggest crowds of the season — for boys or girls — the Free State student section was loud and proud Friday. With the game unfolding in front of them nothing more than a formality, the Free State fans found other ways to entertain themselves. One by one, they began chanting names of people at the scorer's table until they received a response. The cheering then moved to the Free State High bench, where they yelled for assistant coaches Jayme Lisher and Jason Bott before finally getting to Duncan.
"That's what it's all about," Duncan said. "High school athletics is supposed to be fun. And tonight our crowd was awesome. It was like rock-star status for our players after the game. And I think that means a lot to them."
By outscoring their first two opponents, 119-61, the Firebirds are in position to capture their first Firebird Winter Classic title.
Step three of their run will come at 2:30 today, when the Firebirds take on Hutchinson for all the marbles.
"For us to win the past two games like we have is already a big step for us," Allam said. "But it would be a huge step for this team if we can win the title."
Copyright 2017 The Lawrence Journal-World. All rights reserved. This material may not be published, broadcast, rewritten or redistributed. We strive to uphold our values for every story published.