Photo Gallery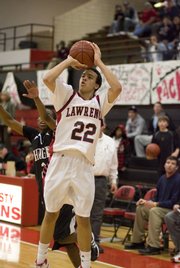 Lawrence High School boys vs. Hogan Prep
Another game, another nail-biter for Lawrence High's boys basketball team.
Dorian Green's three-point basket with :25 remaining decided the Lions' 67-65 come-from-behind victory over Kansas City, Mo., Hogan Prep on Thursday night in the LHS gym.
It was Lawrence's fourth straight game decided on the last possession. The first three were in last weekend's Topeka Invitational.
"All these close games will help us in the end," Green said. "And this one will give us confidence."
This was the third year in a row the Lions have faced Hogan Prep — all at home because the Rams don't have a gym — and the first time they've won.
Then again, Hogan Prep had Marcus Denmon, now a key reserve as a freshman at Missouri University, in those first two meetings.
"We lost Denmon and some other guys," coach Steve Stitzer said, "but this is still a good team. I just don't think we realized how important it was to handle the ball at the end."
After trailing by as many as 11 points in the third quarter, the Rams bolted to a seven-point lead a minute and a half into the fourth quarter, and appeared in control.
With a little less than two minutes remaining, Devin Lloyd's follow gave the Rams a 65-62 advantage after the Lions had cut the deficit to one just 20 seconds earlier.
At that stage, all the Rams had to do was protect the ball and force the Lions to foul them. Instead, Hogan Prep coughed the ball up on successive possessions and wouldn't score again.
The first gaffe led to a driving bucket by Green that brought the Lions within one, and the second preceded the game-winner by the Lions' 6-foot-1 senior.
Green's long-range rainbow wasn't far from the Lions' bench where coach Chris Davis knew the ball was in the right hands.
"When I caught the ball," Green said, "I heard coach say, 'Dorian, hit that shot.' I could hear it clearly."
Green was in a rare situation of being in the clear because the Rams — mainly Lloyd — had been hounding him all night.
"We may have gotten a little bit tired there and let him go," the Rams' Stitzer said.
But it wasn't over yet. Hogan Prep had plenty of time to produce at least a tying goal, but the Rams appeared unaware of the two-point deficit. They passed the ball around nonchalantly until Garron Reeves finally launched a 15-foot baseline runner just before the buzzer that didn't come close.
"We knew they were a good team," Lions coach Davis said. "We knew they'd have their moments, and we would have to weather the storm."
Even without Denmon et al., the Rams came in ranked No. 10 in one Kansas City Metro prep poll. Meanwhile, the Lions had dropped five of their previous six games.
"We definitely needed a win," Davis said.
Hogan Prep (13-4) was led by Lloyd, a 6-0 senior guard who had a game-high 23 points. Lance Kilburn led the Lions (6-7) with 21 points while Green added 19.
The Lions will return to Sunflower League competition a week from tonight when they entertain Olathe East.
Copyright 2018 The Lawrence Journal-World. All rights reserved. This material may not be published, broadcast, rewritten or redistributed. We strive to uphold our values for every story published.