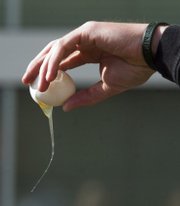 A second-story window and a few dozen eggs is all that a few Pinckney School students needed to get a smashing lesson in engineering.
Some enrichment students practiced for the Kansas University Engineering Exposition egg drop competition Thursday afternoon by throwing their constructed contraptions out a window to see if their egg could survive the drop.
Some cracked under the pressure.
"My (project) was this thin thing made out of straws with tape on the top and bottom with a parachute attached," said fourth-grader Ben Gotto. "It crashed and burned, without the burning."
Asher Supernaw's group didn't fare much better.
"We didn't have as many resources as we would like to have," the fifth-grader said. "I knew it was going to not work."
But one team's egg landed intact. The object was tube shaped and used straws, yarn and tape as shock absorbers.
"We just thought of it and tested it out," said fifth-grader Julia Pfannenstiel.
Gifted facilitator Devin Heath hoped the exercise taught the students "how to rein in their creativity and make it match the function requirements of an engineering problem."
Looking back, fourth-grader Dmitri Smith would make a few adjustments.
"I probably would have put in some padding and put tape around it," he said.
This is the first year Pinckney students will participate in the engineering exposition, which is Feb. 20 and 21.
Copyright 2018 The Lawrence Journal-World. All rights reserved. This material may not be published, broadcast, rewritten or redistributed. We strive to uphold our values for every story published.