Photo Gallery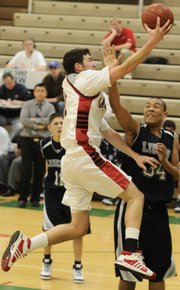 LHS boys vs. Denver Lincoln High
Topeka — Lawrence High's boys basketball players are used to counting the shots taken by senior guard Dorian Green.
They're just not used to stopping so soon.
Thursday afternoon, in the opening game of the Topeka Invitational Tournament at Highland Park High, the Lions' leading scorer dropped in 17 points, but attempted just 11 shots during a 63-61 loss to Denver Lincoln High.
To call it 11 shots is to stretch things a bit. Green's last attempt was a halfcourt heave over two Lincoln High defenders as the final buzzer sounded.
When it did, the Lions (4-6) limped off the floor with their fourth straight loss in tow.
"We want Dorian Green to take more shots than that," LHS coach Chris Davis said. "But we have been focused on trying to distribute the ball better lately, and, really, I thought he did that. And it was perfect."
So much so that the Lions built a 15-point first-quarter lead.
On back-to-back possessions in the first quarter, Green scored easy layups in transition. Both were from the left side, and, with a swagger, it looked as if Green was on his way to a big night.
Early on, however, LHS did not need Green to score. Six Lions scored in the opening quarter, including seven from Green and six from senior Lance Kilburn. At the end of the first, Lawrence led 24-9.
But something happened between quarters that put the Lions on a path for disaster.
"They were just more aggressive than us in that second quarter and pretty much all the way to the end of the fourth quarter," said junior Robbie Wright, who scored nine points and snagged seven rebounds.
After shooting just 4-for-16 in the opening quarter, Lincoln (4-8) drained 10 of 12 second-quarter shots and opened the third quarter by hitting three of its first four shots. The lights-out shooting erased the Lions' 36-34 halftime lead and propelled the Lancers to an eight-point lead.
"It's hard, when things are going as well as they were going at the beginning, to keep your focus," Davis said. "And we were guilty of that."
The only good thing to come from the Lions' collapse was that it happened quickly. Lincoln's largest lead — 48-40 — came with 3:40 to play in the third, leaving the Lions plenty of time to stage a comeback.
After Lincoln's Dawton Quieros hit one of two free throws to open the fourth, LHS senior Chebon Dawes scored a perfect dish from Green and cut the lead to 51-48 with seven minutes to play.
The assist was one of six for Green on the afternoon. He easily would have logged double digits in that department had his teammates been able to finish more of the shots he set up for them.
While Green was busy being John Stockton, without his team being rewarded, the Lancers were doing just enough to keep their lead. Finally, after Danny Rodriguez's missed free throw with 22 seconds to play kept the Lions within reach, Green tied the game at 61 with a driving layup with 14 seconds remaining.
With three seconds to play, Rodriguez got behind the LHS defense and scooped in an underhanded runner that proved to be the game-winner.
The Lions' next chance comes at 3:15 p.m. today when they play Topeka West in the consolation semifinals.
Copyright 2018 The Lawrence Journal-World. All rights reserved. This material may not be published, broadcast, rewritten or redistributed. We strive to uphold our values for every story published.