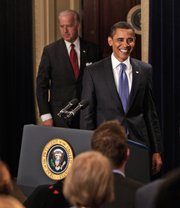 Washington — In a first-day whirlwind, President Barack Obama showcased efforts to revive the economy on Wednesday, summoned top military officials to the White House to chart a new course in Iraq and eased into the daunting thicket of Middle East diplomacy.
"What an opportunity we have to change this country," said the 47-year-old chief executive, who also issued new ethics rules for his administration, hosted a reception at the presidential mansion for 200 inauguration volunteers and guests selected by an Internet lottery and even took the oath of office again after it was flubbed Tuesday.
After dancing at inaugural balls with first lady Michelle Obama past midnight, Obama entered the Oval Office for the first time as president in early morning. He read a good luck note left behind by President George W. Bush, then began breaking cleanly with his predecessor's policies.
Aides circulated a draft of an executive order that would close the detention facility at Guantanamo Bay, Cuba, within a year and halt all war crimes trials in the meantime.
Obama's Cabinet was moving closer to completion.
At the Capitol, the Senate confirmed Hillary Rodham Clinton as secretary of state after a one-day delay forced by Republicans. The vote was 94-2, and spectators seated in the galleries erupted in applause when it was announced.
Treasury-designate Timothy Geithner emerged unscathed from his confirmation hearing, apologizing for having failed to pay $34,000 in taxes earlier in the decade.
To the evident anger of Sen. Patrick Leahy, D-Vt., chairman of the Senate Judiciary Committee, Republicans on the panel invoked long-standing rules to postpone a vote on Eric Holder's appointment as attorney general.
Counting Clinton, seven Cabinet members have been confirmed so far, as have the two top officials at the Office of Management and Budget.
Obama's schedule for the day included separate sessions on the economy and the wars in Iraq and Afghanistan.
The new president has pledged to take bold steps to revive the economy, which is struggling through the worst recession since the Great Depression. Last week, he won approval to use $350 billion in leftover financial industry bailout funds.
He presided over the White House meeting on the economy as the House Appropriations Committee moved toward approval of $358 billion in new spending, part of the economic stimulus package making its way to his desk.
The new commander in chief conducted his first meeting in the Situation Room, where he, Vice President Joe Biden and senior military and foreign policy officials discussed war in Iraq and Afghanistan. Obama campaigned on a pledge to withdraw U.S. combat forces from Iraq within 16 months, and to beef up the commitment in Afghanistan. Obama asked the Pentagon to do whatever additional planning necessary to "execute a responsible military drawdown from Iraq."
The new White House press secretary, Robert Gibbs, said Obama's phone calls to leaders in the Middle East were meant to convey his "commitment to active engagement in pursuit of Arab-Israeli peace from the beginning of his term."
Gibbs also said that in conversations with Israeli, Palestinian, Egyptian and Jordanian leaders, the president emphasized he would work to consolidate the cease-fire between Israel and Hamas in Gaza.
Obama intends to name former Senate Majority leader George Mitchell as a special envoy to the region.
Copyright 2018 The Associated Press. All rights reserved. This material may not be published, broadcast, rewritten or redistributed. We strive to uphold our values for every story published.