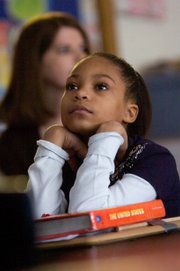 Photo Gallery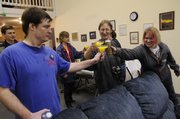 Inauguration Day in Lawrence
Photo Gallery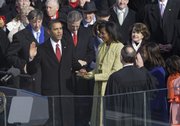 Inauguration Day in DC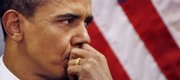 Barack Obama will become the 44th President of the United States on January 20, 2009 — the first African-American elected to the position. Many locals will make the trip to Washington, D.C., to watch the historic event. Others will watch from here in Kansas.
Presidential Memories
Purchase images from the historic 2008 election and inauguration.
Purchase commemorative copies of the Journal-World.
Students at New York School on Tuesday tuned in to television coverage of Barack Obama's inauguration as the nation's 44th president.
"It was just an amazing day because Barack Obama, he's the first African-American president," said sixth-grader Stewart Metz.
Students couldn't believe the size of the crowd.
"From the White House to the Washington Memorial, just packed with people," Metz said.
While they might not have been able to help elect the president, the students understood the importance of the event.
"No one (ever) knew an African-American president would win," said fifth-grader Ja'Darius Woods. "Now Barack Obama made history."
Vicki Penner joined her daughter, Sophia Minder, a fifth-grader, in class to witness the ceremony.
"It was exciting to know that she'll have a model of a president that at least I really admire and she'll see what possibilities there are in good national leadership," Penner said. "He's the next generation."
Some of the students have a lot of hope for their new leader.
"His presence gives out a good vibe," said sixth-grader Jasmine Keys. "Sometimes you just get the feeling that you already know that something good's going to come."
Jai Strecker thinks Obama can live up to his promises. "He seems like he really wants to make this country better and that he wants to solve all the problems."
But they weren't the only ones who were excited to see Barack Obama take office.
"A lot of teachers were crying in class," Woods said. "I think he's going to be the best president."
Copyright 2018 The Lawrence Journal-World. All rights reserved. This material may not be published, broadcast, rewritten or redistributed. We strive to uphold our values for every story published.