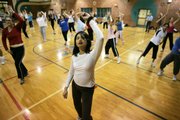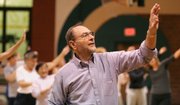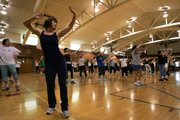 Loren Dolezal cha-chas in his black New Balance shoes, his eyes focused on the instructor. It's the Westlake Ace Hardware employee's first time at a Zumba dance class, and he's not exactly dressed for the occasion.
"I'm starting to shed clothes," the older gentleman says, laying his sweater on the floor of the Community Building.
Proponents of Zumba, an aerobic workout that incorporates various Latin and other dances, say that the workout is one of the fastest-growing exercise trends in Lawrence. And after his first session, Dolezal says he's already keen on it.
"I'm not very limber, so this is great. I'll be dancing down the aisles at Westlake tomorrow," he says.
Jo Ellis, recreation program supervisor for Lawrence Parks and Recreation, said that Sunday's first-ever Zumba Jam Party in Lawrence was designed for newcomers and aficionados alike. Zumba participants emulate the instructor in a variety of dance techniques: salsa, belly dance and cha-cha, to name a few.
"If you can't do it, you just march and do your own steps," Ellis said. "That's what we tell people. Just keep moving."
The newfangled workout routine was created in Colombia in the mid-1990s. Ellis says classes at the Community Building have blossomed from 20 people two years ago to about 225 people today. Lawrence Parks and Rec offer six Zumba classes a week.
"It is huge," she said. "It's not the traditional aerobics by any means."
About 70 people attended Sunday's session. Except for Dolezal, all participants were women, but Zumba instructor Charity Barnum said that the fitness routine is also geared toward men.
She said that the classes don't revolve around an instructor talking to students; instead, they "let the music do the talking," she said. "It's exercise in disguise."
One of Sunday's attendants was Zumba enthusiast Mary Davidson. She's been dancing for years and has tried Jazzercise, ballet and various types of modern dance. But Zumba is different, she said.
"The teacher's not real critical. Instead of going in and practicing the same movements, we just do it," she said. "You move the whole time. There's nothing better than just moving."
Copyright 2018 The Lawrence Journal-World. All rights reserved. This material may not be published, broadcast, rewritten or redistributed. We strive to uphold our values for every story published.