Photo Gallery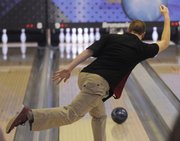 Local high schoolers knock 'em down
Students from Free State and Lawrence High schools faced off Saturday, Jan. 17, 2009, at Royal Crest Lanes.
Chad Boyd awoke to quite a dizzy spell Saturday morning.
Yes, the Lawrence High sophomore admitted to experiencing some trepidation about his first meet as a varsity bowler. But that's not why he felt woozy on this day.
It turns out Boyd, the Lions' top boys bowler, was not even 24 hours removed from a medical procedure to have all four of his wisdom teeth removed. So when he woke up Saturday, neither he nor his coach knew if he would even make it to Royal Crest Lanes to bowl in the Free State Invitational.
"I was just still pretty loopy, like all dizzy and stuff," Boyd said.
After taking some ibuprofen, Boyd decided he felt well enough. Then he proved it on the lanes, rolling a team-best three-game series of 681 to help lead the Lions into first place in the morning round, one spot ahead of Free State High, in front of a packed bowling alley.
The Firebird boys had the last laugh, however, winning the team title in the Baker bowl format, a best-two-out-of-three-games competition where each bowler rolls two frames per game.
The days' results left both Lawrence and Free State's coaches pleased.
"The boys have outdone themselves in this game compared to how they've been bowling in practice," LHS coach Tom Birt said. "They seem to be really playing within themselves and not bothered by the extra fan attention. If anything, they were jazzed up a little bit."
The LHS boys received a bye in the first round of the Baker bowl format, but lost to Atchison in the second round — the same Atchison team that fell to Free State in the championship round.
"They did a really, really excellent job," Free State coach Anita Carlson said. "We match-played on Tuesday and were a little bit nervous. Today, we came out confident."
Firebirds No. 1 bowler Rob Wagner led the way for his team, bowling an overall 681 and a 262 in his last game of the morning session. It was the best game score of any bowler on the day.
On the girls side, LHS' Danielle Husted rolled a three-game series of 520, while Alexah Gudenkauf finished with a 511. The Lions finished 10th out of 12 teams.
Free State's Christina Picicci rolled a 560, and Megan Bastemeyer finished with 506.
Copyright 2018 The Lawrence Journal-World. All rights reserved. This material may not be published, broadcast, rewritten or redistributed. We strive to uphold our values for every story published.