Photo Gallery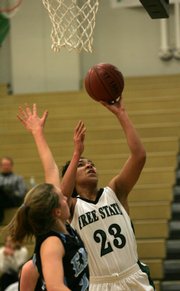 Free State girls vs. Shawnee Mission East
Chantay Caron didn't peddle popcorn, but she did just about everything else.
Caron scored 19 points and grabbed 12 rebounds as Free State stunned Shawnee Mission East, 42-37, in girls high school basketball Friday night in the FSHS gym.
And yet the points and rebounds weren't what had Firebirds' coach Bryan Duncan smiling. It was his decision to have Caron bring the ball downcourt as well.
"We've been doing point guard by committee all season," Duncan said, "but we decided to have Chantay bring it down against their pressure."
Thrust into the additional roll, Caron was admittedly a reluctant heroine.
"I don't really like it," said Caron, a 5-foot-11 junior, "but I've got to do what I've got to do for the team."
SM East came to town with an 8-1 record, while Free State was just 3-4 and hadn't scored more than 38 points in any of its seven games.
"This was our best game by far," Duncan said. "We really took care of the ball, and we jelled as a team."
While posting a season-high in points, the Firebirds also threw their usual defensive blanket on a foe. Only two teams have scored 40 or more points against Free State this season.
The Firebirds' zone defense, with Caron on the point and 6-4 Ashli Hill in the middle, forced the Lancers into 25 percent shooting (13-52).
"With our size, we caused them a lot of problems inside," Duncan said. "We wanted to force them to shoot outside, and most of their shots were contested."
When Hill fouled out with 1:11 remaining, the Firebirds were nursing a 36-34 lead. Nevertheless, Duncan gave away 10 inches in height by replacing Hill with guard Susan Wilson.
Duncan said he reasoned that SM East would have to foul down the stretch and Wilson "is an excellent free throw shooter."
Sure enough, the 5-6 junior converted four critical charities down the stretch, the first two in a bonus situation.
"Actually, I wasn't nervous," Wilson said. "I just relaxed and listened to my friends in the crowd. They helped me."
Duncan certainly hopes Friday's win was a watershed that will serve as a springboard to a strong final two months of the season.
"(SM East) is definitely one of the top teams in the state," Duncan said. "They're at least in the top five."
Next for Free State is a make-up game Tuesday against Topeka High.
Copyright 2018 The Lawrence Journal-World. All rights reserved. This material may not be published, broadcast, rewritten or redistributed. We strive to uphold our values for every story published.