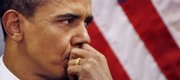 Barack Obama will become the 44th President of the United States on January 20, 2009 — the first African-American elected to the position. Many locals will make the trip to Washington, D.C., to watch the historic event. Others will watch from here in Kansas.
On Jan. 20, the United States will inaugurate its 44th president.
LJWorld.com would look to memorialize your experiences — be they in Lawrence, Washington, D.C., or anywhere in between — in photos, videos, stories and personal recollections.
For stories and personal reflections, you can post them directly to our Obama inauguration reader blog group. Or you can e-mail them to editor@ljworld.com.
For videos, post them to YouTube or a similar video sharing site and then send a note with a URL for your video to editor@ljworld.com.
To submit photos, you may e-mail them to editor@ljworld.com or use our easy photo web submission form.
Copyright 2018 The Lawrence Journal-World. All rights reserved. This material may not be published, broadcast, rewritten or redistributed. We strive to uphold our values for every story published.