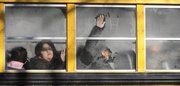 Despite bitter cold temperatures and wind chills below zero, some people had little choice but to be out in the frigid elements Thursday.
Construction crews worked high in the air Thursday morning as they built a new student housing development near 31st Street and Ousdahl Road. Project superintendent Albert Huff said dressing in layers is key to surviving the cold weather.
"It slows us down; we kind of have to take a break every so often, warm back up and go at it again," said Huff, who was wearing five layers of clothing. He said air compressors and nail guns wouldn't work because it was so cold.
City utility crews responded to any waterline issues in the city, including a problem near Seventh Street and Monterey Way that left frozen water along the street. They also checked to make sure fire hydrants throughout Lawrence weren't frozen, especially in areas near schools and the hospital, a worker said.
Police, firefighters and sanitation crews are among other city workers who have to work out in the cold.
Police officers are provided heavy jackets and stocking caps to keep warm during extreme temperatures, said Sgt. Bill Cory. They also receive more frequent breaks when required to be outside in cold temperatures for a long period of time.
Students at Kansas University also returned back to work Thursday, braving the temperatures as they made their way between classes after winter break.
"It's pretty freezing," said Lydia Gibson, a Prairie Village junior. "It's pretty much all you can do to really keep yourself warm, especially up on the hill when that wind gusts up; it's pretty cold."
Temperatures are expected to remain cold today, and there could be a few morning snow flurries, 6News meteorologist Matt Elwell said. South winds will then take over, driving temperatures up to around 30 degrees this afternoon and into the teens tonight.
Warmer temperatures are expected by the weekend, with a high of 38 on Saturday, he said.
"It's going to feel tropical to us," Elwell said.
Copyright 2018 The Lawrence Journal-World. All rights reserved. This material may not be published, broadcast, rewritten or redistributed. We strive to uphold our values for every story published.