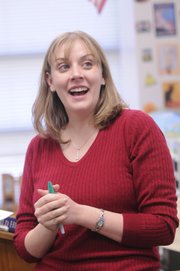 Lawrence High School social studies teacher Tracy Murray received a nice surprise Wednesday afternoon.
In the middle of a discussion on the Renaissance, teachers from her department, a group of administrators and Wal-Mart representatives interrupted.
Lawrence's Wal-Mart, 3300 Iowa, honored Murray with its Teacher of the Year Award.
"I'm totally shocked and surprised and very honored," Murray said.
Wal-Mart will donate $1,000 to the school, and the ninth-year teacher will also receive a $100 gift card. Murray said she would spend the gift card on items to benefit students in her classroom.
Wal-Mart will submit her as a candidate for the company's state and national award programs.
Ruth Becker, a Wal-Mart community involvement coordinator, said a student who turned in a letter for Murray's nomination said the social studies teacher handles things well inside and outside of the classroom.
"If there is anything to do, she is on it," the student wrote.
Copyright 2018 The Lawrence Journal-World. All rights reserved. This material may not be published, broadcast, rewritten or redistributed. We strive to uphold our values for every story published.