Photo Gallery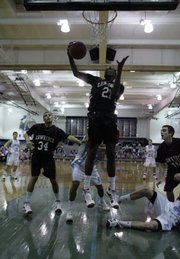 Lawrence High School boys vs. Shawnee Mission East
Prairie Village — Dorian Green couldn't offer so much as a hint of a smile Tuesday night. Not after the Lawrence High point guard's exceptional 16-point, fourth-quarter performance. Not after yet another dazzling 34-point outburst for the game.
No joy accompanies losing in conference play.
Lawrence's boys basketball team fell, 66-58, at Shawnee Mission East in a game that slipped away from the Lions over a six-minute span in the second half.
During that time, SM East sent waves of players at Green and expanded a slim 33-30 lead into a 49-33 advantage, as LHS did not make a shot from the field.
"I think earlier in the year we were hitting those shots," said Green, trying to come up with a decent rationale for the Lions' struggles. "Once everybody starts hitting shots, everything's going to be wide-open for everybody again."
Unfortunately for Lawrence (4-4, 1-2), most of those misses Tuesday turned into one-and-done offensive possessions, while SM East hammered the glass for putback attempts off missed jumpers.
By halftime, the Lancers had attempted 35 shots to the Lions' 16.
"We're not going to play a team that's going to defend any harder than what these guys did," LHS coach Chris Davis said.
Despite the shot disparity, Lawrence entered halftime tied at 25, thanks largely to Green's 16 first-half points.
Soon after, however, the Lancers' physicality began paying dividends, as SM East (5-2, 2-1 in Sunflower League play) muscled its way inside, outscoring Lawrence, 19-8, in the third to take a double-digit lead into the final frame.
"For what it's worth, we could have easily cashed in the chips there when we got down, and we stood up and battled," Davis said. "The easy thing to do would have been to go out and say, 'We can't get this.' We actually had a shot with a couple of minutes left."
Davis sent five guards onto the floor, full-court-trapping and swiftly trimming the deficit. Green found himself right in the thick of the comeback. His putback of LHS guard Marcus Ray's missed three with 1:20 left cut the Lions' deficit to 58-53 — the closest they'd been since minutes into the third quarter.
But the Lancers salted the game away by making their final eight free-throw attempts.
Green, averaging 26.6 points per game, finished the contest hitting 9-of-22 field-goal attempts, while the rest of his team shot 7-for-24.
Copyright 2018 The Lawrence Journal-World. All rights reserved. This material may not be published, broadcast, rewritten or redistributed. We strive to uphold our values for every story published.