On the street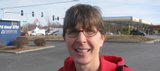 They are going up, but $1.69 is a lot better than $4. I don't mind it right now, but I won't like it this summer if it gets to $3.50 and $4.
Lawrence motorists are noticing a rise in the price at the pump.
"Last week, it was $1.49 and now suddenly it's $1.60," said Nurit Gillath, who has been visiting her son at Kansas University for the past two weeks.
And look out, a gallon of gas could hit $4.
The Associated Press reported Wednesday that some oil analysts believe that prices could reach $150 to $200 a barrel, making gas prices even higher than the previously record high of $4.11 a gallon.
What brought on the sudden increase?
Jim Hanni, executive vice president of Kansas Region AAA, said the recent fighting in the Middle East "has propped up the price of oil." This, combined with the dollar's trading at a higher value, has caused the spike.
On the other hand, MarketWatch reported that the price of crude oil fell 12 percent on Wednesday, the biggest one-day percentage drop in seven years.
Copyright 2018 The Lawrence Journal-World. All rights reserved. This material may not be published, broadcast, rewritten or redistributed. We strive to uphold our values for every story published.