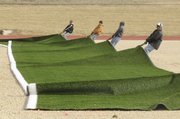 Crews at Free State High School took the first steps in revamping athletic facilities Tuesday as they started laying turf on the previously grassy football field.
This is the beginning of a project at Free State and Lawrence High School that will cost about $12 million to complete.
"It's been a while coming," said Tom Bracciano, the school district's operations and facility planning director.
Lawrence High School is undergoing the same process, but Bracciano said that work is about a week behind.
"We hope to be finished with the football field by Jan. 20, then they'll move up to the baseball field," he said.
The Free State field alone is costing near $890,000 to install. Bracciano said he'd originally hoped the field would be finished by Jan. 1, but the recent cold weather and snow had postponed the project.
"The ground's been frozen, and it's not really appropriate to put the turf down, so we got a little delayed by that, but they're still really making really good progress," Bracciano said.
After the football field, focus will shift to the baseball fields, then the soccer fields, followed by the softball field and tennis courts at Lawrence High School.
"Our goal is to have seven fields done by mid-April," Bracciano said.
Copyright 2018 The Lawrence Journal-World. All rights reserved. This material may not be published, broadcast, rewritten or redistributed. We strive to uphold our values for every story published.