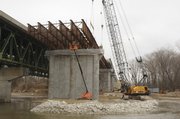 Contractors are keeping their heads well above water as part of an ongoing bridge-replacement project along the Kansas Turnpike.
Crews are working about four stories above the Kansas River, connecting massive steel beams that will support enough rebar, concrete and guardrails to carry nearly 30,000 vehicles per day beginning this fall.
Each time another of the 147 beams is lifted into place, crews start inserting and tightening dozens of steel bolts, each 7/8-inch thick and able to withstand enough tension to stand up to the pressure of traffic and Mother Nature for decades to come.
The elevated work takes an hour and 45 minutes at each beam connection, in case anyone's counting.
And Rex Fleming is.
"Right now there are people up there bolting all the time," said Fleming, project engineer for the Kansas Turnpike Authority. "We're looking forward to good weather so we can keep cranking."
The new span is part of the turnpike's $130 million project to replace both Kansas River bridges, overhaul the West Lawrence and East Lawrence interchanges, and make other related upgrades by the end of 2011.
The latest work is putting up a three-lane bridge, with two 10-foot-wide shoulders, that ultimately will carry turnpike traffic headed west. Once completed this fall, however, it will carry all turnpike traffic for about a year, so that crews can dismantle the existing river bridges and then construct the span for traffic headed east.
Also part of the project will be widening a 3.38-mile stretch of the turnpike from two to three lanes in each direction: from just west of the West Lawrence interchange, which is exit 202, to where the turnpike crosses North 1500 Road just east of the East Lawrence interchange, which is exit 204.
The entire project is intended to replace the aging bridges — now more than 50 years old — and to accommodate projected increases in traffic. The current bridges handle about 29,000 vehicles a day, a total expected to reach 67,000 by 2030.
Copyright 2018 The Lawrence Journal-World. All rights reserved. This material may not be published, broadcast, rewritten or redistributed. We strive to uphold our values for every story published.