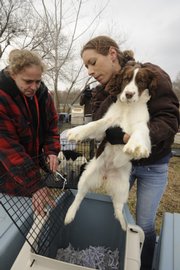 Lawrence served as the hand-off point Friday for dozens of dogs that state animal health officials removed from a western Kansas breeder.
The English springer spaniel and English cocker spaniel dogs were handed off to a national rescue organization, which will lead the adoption process from Missouri.
Kansas Animal Health Department Animal Facilities Inspection program director Debra Duncan said the animals were relinquished by a breeder near Garden City who had trouble passing inspections.
"On her own initiative, she decided that downsizing was the thing to do," Duncan said by phone during her drive to Lawrence.
State animal health officials picked up the animals Friday morning and brought them to the Lawrence Humane Society, where they were given to the English Springer Rescue America organization, at the breeder's request.
The dogs were transported to Marshall, Mo., where they will be seen by vets, spayed or neutered, evaluated, rehabilitated and placed up for adoption, said Mark Samuel, a regional coordinator for the rescue organization.
Parties interested in adopting the dogs must do so through the organization's Web site, springerrescue.org.
The dogs are not available from the humane society.
Copyright 2018 The Lawrence Journal-World. All rights reserved. This material may not be published, broadcast, rewritten or redistributed. We strive to uphold our values for every story published.