Photo Gallery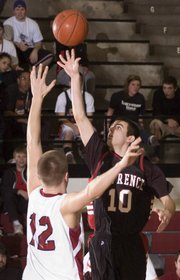 LHS boys vs. SMN
Overland Park — Less than six minutes into Tuesday's regular-season road finale at Shawnee Mission North, the Lawrence High boys basketball team had scored 21 points on 6-of-7 shooting and appeared to be on the way to a big night.
So, at that pace, did the Lions ever think about cracking the century mark against the 3-15 Indians?
"When you're playing the game, all you're thinking about is winning," said LHS senior Bobby Davis, who hit two three-pointers in the opening minutes. "But then when the game's over and you look back, you think, 'Yeah, we could've got it.'"
Not exactly.
Although the Lions started at a scorching pace, their hot shooting soon cooled, and they began to rely on their stingy defense during a 57-40 victory at SMN. But not before the Lions built an insurmountable 21-8 first-quarter lead.
"That's as good as we've started," LHS coach Chris Davis said. "And I'm hoping that's a sign of things to come."
Speaking of signs, a sure sign of a good team is that it beats teams it should the way that it should. That's exactly what LHS did Tuesday in burying SM North.
While SM North was settling for out-of-character three-point shots, the Lions were busy draining them. LHS was 10-of-28 from downtown for the game, including 7-of-16 during the first half. Junior guard Robbie Wright led the barrage with three triples, while Bobby Davis, Lance Kilburn and Dorian Green added two apiece, and Marcus Ray swished one.
"We have five guys who can knock down three-pointers on any night," Chris Davis said. "And that showed tonight. When we're all hitting them, we're a tough team to handle."
LHS gave up just three points in the second quarter and led, 31-11, at halftime. That, the coach said, gave the Lions the chance to enjoy a lead for a change. It also provided an opportunity to run different sets in preparation for the postseason.
"We really did look at the second half as a chance to work on some stuff that we haven't been able to work a whole lot on," Chris Davis said.
That was just fine with the players, who have become used to grinding out victories during the last month or so of the season.
"We put them away early," Wright said. "But sometimes we let off when we have a lead, and I think we did that a little tonight. We have to keep working hard and make sure we step on other teams' throats when we have them down."
Wright finished with nine points on 3-of-6 shooting from three-point land. Davis added six points. Green led the Lions with 18 points, and Lance Kilburn chipped in 15.
The LHS boys and girls will play host to Free State on Friday in the regular-season finale for all four teams.
Copyright 2018 The Lawrence Journal-World. All rights reserved. This material may not be published, broadcast, rewritten or redistributed. We strive to uphold our values for every story published.