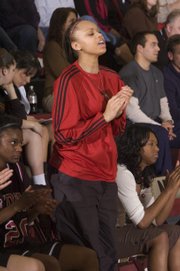 On the program, Tania Jackson is listed as one of the student managers on Lawrence High's girls basketball team.
Yet Jackson is really more of a cheerleader than a manager.
"I don't do water bottles," Jackson said with a smile. "I just sit and yell."
Sitting and yelling isn't what Jackson had planned to do during her senior season with the Lions. The 6-foot-2 forward had expected to be on the floor as Lawrence High defended its Class 6A state championship.
As it turned out, however, that 54-52 victory over Goddard last March in Emporia's White Auditorium — fueled by a late three-pointer from Jackson — was her last game in a Lions' uniform.
Late last October, while participating in an open scrimmage at Southwest Junior High, Jackson went up for a rebound, came down and a knee popped. Diagnosis: torn ACL.
And so Jackson sits and yells while the Lions, now basically a perimeter-oriented team, struggle to stay around the .500 level.
"It's tough, very tough," she said, "especially when we lose. Those are the bummers because I know I could be out there helping."
While she can't help physically, she's remains a factor vocally. During pregame warmups, Jackson is out there in street clothes, hollering and cajoling, clapping and raising a fist. On the bench, she's a combination manager, cheerleader and assistant coach.
"She brings the same emotion she brought last year," Lawrence coach Kristin Mallory said. "One thing we lack is an emotional leader, and we need her energy."
Kansas coach Bonnie Henrickson also covets Jackson's size, skills and toughness. Jackson committed to KU last summer and, despite the injury, Henrickson granted her a scholarship, and Jackson signed a letter of intent in November.
"Tania shoots the three and can post up," Henrickson said. "She is a tremendous rebounder on both ends of the floor. She possesses the speed, size and athleticism to be successful in the Big 12."
Curiously, Jackson suffered her torn ACL exactly a week after Angel Goodrich, a highly touted KU freshman, suffered a similar injury during preseason practice.
"Angel told me what to expect," Jackson said, "and what I need to work on to get back."
Ask Jackson what she does in rehab and she'll tick off a list of seven or eight tasks — everything from calf raises and squats to one-legged balances and stationary bicycle rides.
She also stretches a rubber band between both knees and does pulls because her knees toe in slightly and, she says, "That helps the other knee stay strong."
Her regimen at a city physical therapy facility lasts about an hour and a half three times a week.
KU's preseason drills will begin on Oct. 15, and, she stressed, "I'll be ready way before then."
Meanwhile, Jackson sits and yells and, from time to time, thinks about her last game on that March day last year in Emporia when she scored 10 points, retrieved a game-high nine missed shots and celebrated the state championship with her teammates.
"I actually watched the tape a few days ago," she said, "so I could memorize it."
Copyright 2018 The Lawrence Journal-World. All rights reserved. This material may not be published, broadcast, rewritten or redistributed. We strive to uphold our values for every story published.