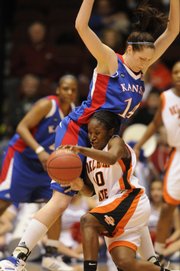 Stillwater, Okla — Oklahoma State is struggling at home. Kansas is bumming on the road.
Something will have to give when the Cowgirls and Jayhawks tangle in Big 12 Conference women's basketball tonight.
Tipoff will be at 7 p.m. in Gallagher-Iba Arena. The game will not be televised.
Kansas (14-11 overall, 3-9 Big 12) hasn't won a conference road game since the last outing of the 2007 season, a losing skein that now stands at 14.
But Oklahoma State (15-10, 4-8) has dropped five straight at home, including a 74-70 decision to Texas Tech last Saturday, despite having arguably the league's best all-around player in Andrea Riley.
A 5-foot-5 junior, Riley leads the Big 12 in scoring with a 24.0 average, far ahead of KU's Danielle McCray, who is second at 19.0. Riley also ranks second in the league in assists (6.28) and is fifth in steals (2.18).
While O-State is looking for answers, Kansas is riding a wave of euphoria after spilling No. 21-ranked Iowa State, 58-47, on Sunday in Allen Fieldhouse.
"The challenge is to win on the road, and this will give us momentum, I think," KU coach Bonnie Henrickson said after KU downed the Cyclones. "That and how bad we were in the Big 12 tournament against (Oklahoma State)."
KU and OSU met in the quarterfinals of the league tourney last March at Kansas City's Municipal Auditorium, and the Cowgirls raced to an 82-62 victory.
KU forward Nicollette Smith probably won't be at full speed tonight after tweaking a knee in the Iowa State game. Smith had to be helped off the floor with about 11 minutes left, but was able to return with a couple of minutes remaining.
An MRI showed no serious damage, Henrickson said, but the KU coach held the 6-2 sophomore out of practice on Monday and Tuesday.
"She's OK," Henrickson said Tuesday, "and right now I think she can give us something tomorrow night."
Tonight might be the Jayhawks' last chance to end their league road losing streak. The lone remaining road game is the regular-season finale at Iowa State on March 7.
Copyright 2018 The Lawrence Journal-World. All rights reserved. This material may not be published, broadcast, rewritten or redistributed. We strive to uphold our values for every story published.