Photo Gallery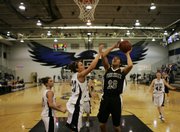 Free State girls vs. Olathe Northwest
It has been 19 games now, and Free State coach Bryan Duncan still cannot understand the enigma that is his Firebirds girls basketball team.
Sometimes, the Firebirds play magnificently, as they did in a five-point victory two weeks ago against Sunflower League second-place team Shawnee Mission Northwest.
Then there are games like Tuesday night.
"We laid an egg, and I can't explain it, to tell you the truth," Duncan said. "I guess I'm just not real sure what makes this team click."
Several times throughout Free State's 11-point loss, Duncan squatted down and faced his team on the bench during timeouts, begging for effort and energy. After the third quarter, he even threatened to pull all five starters in favor of little-used players.
Nothing seemed to work.
"We were dead for sure," said guard Wren Wiebe, who finished with five points.
Free State (10-9, 5-5 in Sunflower League play) led only once — on the first basket of the game. That came from forward Chantay Caron, whose offense kept the Firebirds afloat.
Caron scored nine of her team's 14 first-half points as ONW (13-6, 6-4) grabbed a 21-14 halftime lead.
Duncan drew up several plays to isolate Caron in the post. Caron worked her way free for easy layups and scored a game-high 24 points to go with eight rebounds.
Firebirds center Ashli Hill spent much of the game plagued by foul trouble before fouling out with 5:40 left. While in the contest, Hill contributed seven blocks and did a good job of negating the Ravens' twin-sister combination of Candace and Alexis Boeh.
But with no second scorer emerging to spell Caron, Free State slowly faded away.
"You can't expect one kid to score," Duncan said. "Until we find a second and third scorer, we're not going to be able to win basketball games."
The Ravens had five players score at least five points to the Firebirds' two.
"I personally just want to forget about this game," Caron said.
Copyright 2018 The Lawrence Journal-World. All rights reserved. This material may not be published, broadcast, rewritten or redistributed. We strive to uphold our values for every story published.