Photo Gallery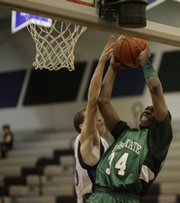 Free State boys vs. Olathe Northwest
Olathe — Well, when it rains, it pours ... and right now, Free State High's boys basketball team is being pelted by golf-ball-sized hail.
Already in the throes of a school-record 17-game losing streak, the Firebirds entered Tuesday night's game against Olathe Northwest missing two of their top players — Nick Hassig and Chase Hoag — because of illnesses. If that weren't bad enough, Free State coach Chuck Law also dismissed backup point guard Sean Brown from the team this week for violating team rules.
The dwindling numbers left Law in a considerable pickle on Tuesday.
"We had five guys warming up during the girls game," said Law, who declined to let players talk after the Firebirds' 53-44 road loss against the Ravens.
The rest of Law's team was busy playing in the junior varsity game in the gym adjacent to the main court.
But if any silver lining emerged as Free State's losing skid hit 18, it was the impressive play of those JV players who stepped up later on the varsity squad.
"They pulled some serious double duty tonight," Law said.
Among them were Alec Heline, Bo Schneider, Evan Manning and Ryan Scott. While Heline started Tuesday on varsity and Scott saw action earlier in the season, Schneider and Manning played their first extensive minutes all year.
Manning came off the bench to run the point-guard position for much of the contest and scored two points with two assists.
"Evan's got a great head for the game," Law said. "And in the future, we desperately need him if this team is going to be successful. We got a little taste of what he's capable of doing tonight."
Scott actually led the Firebirds with 13 points, including two three-pointers to keep Free State in the game early.
"If we didn't have him tonight," Law said, "the story would have been even worse than it was."
Free State trailed, 28-20, at halftime and twice cut the deficit to three points. Forward Eric Watson scored inside to make the score 38-35 with 1:33 left in the third quarter — a quarter in which the Firebirds shot 6-for-9.
Then, Scott opened the fourth quarter with a layup and a free throw 30 seconds later to trim the deficit to 41-38.
ONW (11-8, 5-5 in Sunflower League play) responded with a 7-0 run over the next two minutes to put the game away.
Law received key contributions from guard Douglas Compton (six points), center Michael Swank (seven points, four rebounds) and Watson (seven points, eight rebounds).
Free State has one more opportunity to snap its losing streak before sub-state begins. That comes Friday night at Lawrence High in the final game of the regular season.
The Firebirds (1-18, 0-10) will be heavy underdogs, but at least Tuesday evening's performance was a step in the right direction.
"I was very proud of how we played considering the hand we were dealt tonight," Law said.
Copyright 2018 The Lawrence Journal-World. All rights reserved. This material may not be published, broadcast, rewritten or redistributed. We strive to uphold our values for every story published.